Automotive
Published on December 14th, 2021 | by Subhash Nair
0
Voyah Dreamer Aims To Take On Lexus LM With Electricity
Dong Feng's Voyah Dreamer could be a EV Minivan to quietly take on the Lexus LM in China.
Late last year, Dong Feng launched the Voyah brand with a big showcase concept car penned by ItalDesign. It was called the i-Land and it was slated to be a Porsche Taycan competitor. While that particular vehicle has yet to see the light of day, Voyah has moved on to something quite literally bigger – the Voyah Dreamer.
This large multi-purpose vehicle (MPV) is aimed at the Lexus LM looking at its interior design and overall product presentation. It is unknown if the Voyah Dreamer has a traditional ICE powertrain or if it will be an electric vehicle like the other production Voyah product, the Free SUV.
That vehicle has 684 horsepower on tap, so in the Dreamer, we could have ourselves the world's fastest people mover.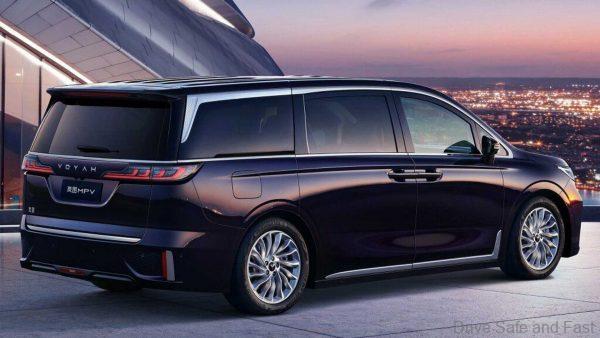 While the rear end of the Voyah Dreamer actually looks really good as far as MPVs go, the front end looks a little bit comical in our opinion. It's almost entirely a grille, and not the subtle kind either. It looks like a giant gate has been attached to the front end of the vehicle and we're sure it's making BMW designers feel a little bit insecure about the size of their grilles. Don't worry BMW designers, there's still time to up the size of the XM's production grille!
Inside is a similar blend of tacky and tasteful. On the one hand, there's a lot of white leather and upholstery and the seats look really plush and comfortable. The purple ambient lighting also has a rather interesting effect, looking a lot like a plane cabin at night, which will be great for those who miss flying around.
However, the accent pieces in this car are finished in gold, and it's the sort of rose gold that really shines. Given that this is most likely a thin paint coating over plastic, we're not sure the final feel of these parts will reflect what users expect, but who knows. It's not like Dong Feng are exporting any of their passenger vehicles to Malaysia.
The rest of the interior is actually very high tech and well equipped. Voyah are fitting this cabin with 3 displays up front and one more in the rear for the back row passengers to share. There's a large sunroof too and the rear seats apparently have heating, ventilation and even massage functionality built in.It's worth noting that the Voyah Dreamer seats just 4 in the configuration showed initially, but there's a possibility it will be configured for 6 or 7 after its launch.