Automotive
Published on January 25th, 2022 | by Subhash Nair
0
Ford Equator Sport Is A Youth-Centric, China-Exclusive Crossover
Ford Equator Sport is the latest China-exclusive from the Blue Oval, made in partnership with Jiangling.
China has been getting a lot more attention from Ford as of late. Recently it was learnt that Mondeo would be continued for another generation exclusively in China, removing a once admired nameplate from the Blue Oval's lineup in Europe and beyond. Earlier this year, they premiered a new SUV model family in China – the Equator. The initial Ford Equator had 3 rows of seats and was a flagship product. Now they've shown a new, smaller SUV called the Ford Equator Sport. Just like with the Bronco and Bronco Sport, the Equator and Equator Sport shows how the company is creating new SUV sub-brands for greater overall market penetration.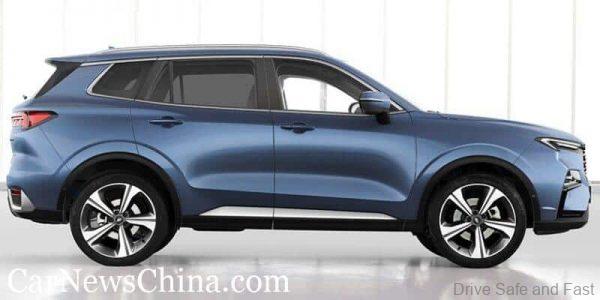 Just like the Ford Equator, the Ford Equator Sport is a China-exclusive and will be built by the Jiangling-Ford joint venture and they don't plan to export this vehicle at all.
Ford aren't sticking to their rulebook for design on the Equator Sport, but kept some of the design cues from the original Ford Equator, such as the split headlights. This puts it in familiar territory as SUVs from Hyundai. To be honest it's nothing particularly good looking and it's barely 'Ford-looking', but it does have a trendy enough facade. The front is dominated by a large grille with scale-like cutouts and the LED daytime running lights seem to 'drip' into the top of the grille.
Around back, the Equator Sport looks like the marriage between the Ford Kuga and Volkswagen Tiguan, perhaps unintentionally mirroring the partnership Ford and Volkswagen have been working on for some years. Exhaust pipes are hidden out of the way with no fake cutouts or anything like that. But all-in-all, it's a very bland looking SUV from the outside.
In terms of measurements, the Ford Equator Sport is 4.630 metres bumper to bumper witha 2.726 metre wheelbase, 1.935 metres across and 1.706 metres tall.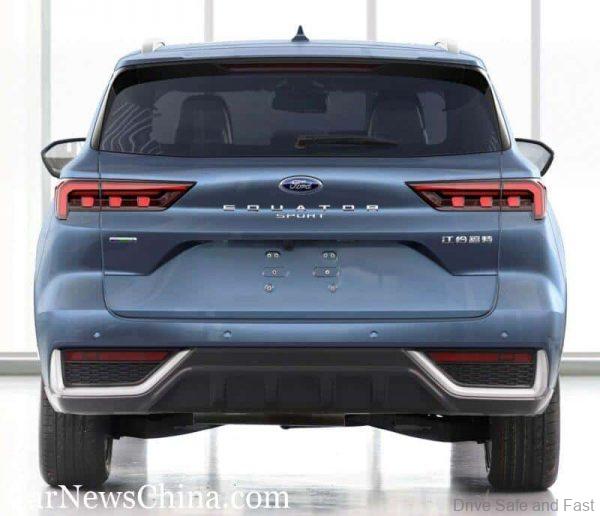 There appear to be at least 4 different rim options with a full-length panoramic sunroof available too.
Inside is where the Equator Sport really shines. Jiangling Ford has equipped this cabin with a Mercedes-style dual 12.3″ set up. That's one 12.3″ digital instrument cluster for the driver and another 12.3″ infotainment system in the middle, but they're right next to each other on the dashboard. The Ford Equator Sport also comes with Ford's Co-Pilot 360 intelligent driving assistance system with Tencent's TAI3.0 automotive intelligent system which features connectivity systems for navigation, WiFi, and over-the-air updates.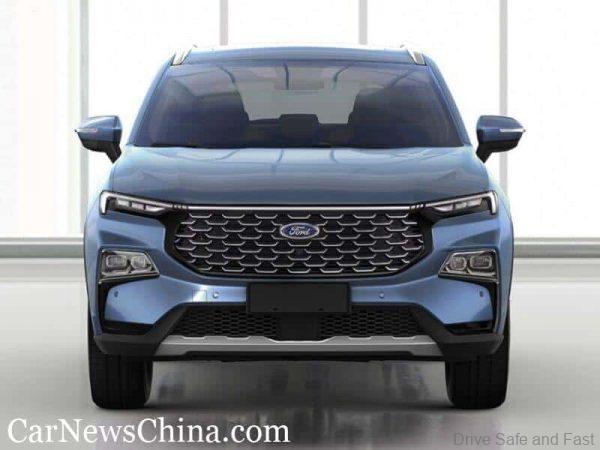 Powering the Equator Sport is an engine from JMC-Ford. It's a 1.5-litre turbocharged petrol four cylinder that puts out a decent 170 horsepower and 260Nm of torque. This power is sent to the wheels via a 7-speed dual clutch gearbox. Apparently a PHEV powertrain is also in the works.