Cars
Published on January 20th, 2022 | by Subhash Nair
0
2022 Malaysian Spec Kia Carnival Test Drive Impressions
Last week, Dinamikjaya Motors launched the all-new Kia Carnival in Malaysia – an 11-seater MPV. Yesterday, we got to drive it to Ipoh and have a look at what this new people mover had to offer.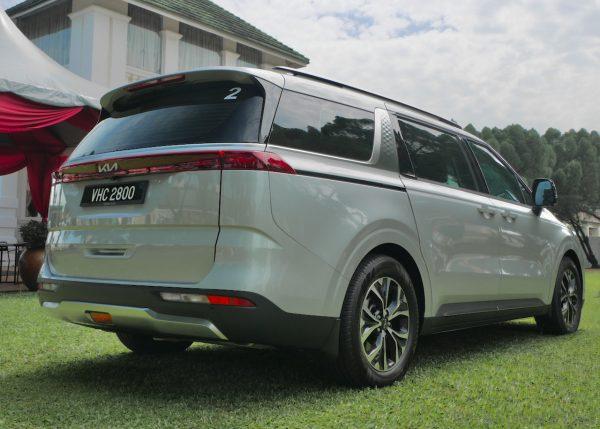 There's a lot to unpack – a new vehicle, a renewed Kia brand and a new local distributor for Kia vehicles in Malaysia. We'll touch on all three in this article, but the focus is on the new vehicle.
Dinamikjaya Motors is a subsidiary of Bermaz – the people behind Mazda and more recently Peugeot in the country. They've got a long term strategy to bring the brand to new heights with a great aftersales package, great value-for-money packaging and a more customer-centric approach to car sales with the same team behind Mazda running the show here.
As for the Kia brand itself – we've seen their models mature over the years, taking on bolder designs, much improved build-quality and sophisticated ride and handling to rival premium European marques. However, the brand image itself wasn't completely evolved until late last year, when they decided to take on the "Movement That Inspires" tagline and rename the company to "Kia" from the previous "Kia Motors". This shift indicates a move away from traditional petrol and diesel powertrains, but that shift will still take years to completely materialise.
Finally, there's the Carnival itself. Under Naza, the Carnival has been offered in Malaysia first as the rebadged "Ria", and then as the Grand Carnival. Now it is sold simply as the Carnival under Dinamikjaya Motors. This 4th generation Carnival was globally debuted in August 2020. It brought a new chassis, a new design, and loads of other tech to keep it competitive.
Kia Carnival Drive Report
In Malaysia, this CBU model was imported with the 11-seater configuration to keep pricing attractive as it is not hit with the same kind of taxes as a passenger car might have been. The seating in the Kia Carnival follows a 2-3-3-3 layout with legroom, amenities and overall comfort taking a hit with each row.
The centre seats on rows 2 and 3 fold down and to the side, to allow occupants access to the rear. They can also be left folded down and to give two passengers in rows 2 and 3 access to cupholders and smartphone holders – these are on plastic moldings behind the middle seats.
The fourth row is fit for use only for children or very small-sized adults and deploying it removes all luggage room. There are a couple of rather deep cubby holes towards the left side for use here.
A 12V, 180W socket in the rear of the cabin alloys passengers here to charge devices if needed. With the fourth row folded flat, the Kia Carnival has enough room for a few overnight bags or one or two suitcases. The 12V socket is still accessible to charge devices in the luggage compartment.
While I was unable to fit in the fourth row, I spent a majority of my trip to Ipoh in the 3rd row. The seat is a little narrow and unsupportive here but should work fine for anyone of average height and build. The seats here can be slid back and forth.
This row gives you access to a little retractable sunscreen for the window, a couple of ceiling mounted air vents, cupholders and smartphone holders, should you fold the middle seat down, and a couple of USB type-A ports for charging devices.
I spent some time in the second row as well. Here the seats feel a lot better. They're made for adults and they're reasonably supportive. These seats can also be slid back and forth and reclined a little. The seats on either side can also be slid and reclined forward to allow those in the rearmost rows to get in and out more conveniently.
In terms of amenities, each of the seat backs of the front row have USB type-A charging ports. The passenger front seat has 'chauffer controls', so it can be moved out of the way by those in the second row.
There's also a 12V 180W socket for 2nd row occupants to use. both sides feature power sliding doors with power windows with retractable sunscreens.
There are two ceiling-mounted air vents and towards the right hand side of the ceiling, there are air cond controls for the rear compartment.
In front is where all the action is. Here, you get a world-class 12.3″ infotainment system supporting wired Android Auto and wired Apple CarPlay.
There's also a wireless Qi Charging pad along with three USB type-A ports – two for charging, one for the aforementioned Android Auto/Apple CarPlay. Below this large and rich colour display are the triple zone climate controls in a mix of capacitive and physical switches.
The driver has controls for the powered-sliding doors and all power windows, rear window locks, side mirror adjustment and door locks.
The driver also gets a little colour multi-info display along with analogue instruments in the typical clear Kia fashion. The drive-by-wire gear selector interface is a rotary knob in the centre.
It's next to controls for the electric parking brake, brake hold, and drive mode toggle button.
The 360-degree parking camera button and parking sensor toggle are also near this area. The front passenger has access to the vehicle's door locks.
Material use is pretty decent in the Carnival. There's a mix of real and artificial leather in the front row with nice soft touch points on the dashboard and armrests.
However, these start to become sparse in the next few rows, with genuine leather being swapped for more synthetic blends and soft plastics being substituted with hard plastics. This is typical for most MPVs in this price point, so there's nothing out of the ordinary here.
What's definitely extraordinary is the attention to detail in design. Not only is the fourth generation Kia Carnival an exceptionally handsome MPV on the outside, but they've brought a rare uniformity of design to the vehicle to the interior.
Kia's designers went all out to blend make even the speaker grilles appear to be a real part of the design. Every design motif 'fades in' gracefully. Even the perforation on the seats have a unique pattern to them.
Our drive of the Kia Carnival was a little too short to reveal anything in detail. Stay tuned for a full review soon. However, we did spend about 40 minutes on the PLUS highway driving through extremely heavy rain. The Carnival was extremely well behaved, not rolling at all in the corners, though there is no running away the car's size and weight. It had an incredible car-like ride about it with extremely good control, NVH, comfort for the first two rows of passengers. The third row only suffers under erratic driving conditions and bad road surfaces. This new chassis is a lot more rigid and it shows in the driving character, for sure.
The 2.2L turbodiesel is a familiar engine to the Malaysian market that delivers loads of torque while remaining very fuel efficient. It's perfect for long-distance journeys with the whole family, but may not have the same appeal as a petrol-powered MPV in bumper-to-bumper traffic. That being said, the automatic in here is plenty smooth, with no hesitation in traffic.
At just under RM200,000, the Kia Carnival is an exceptionally good value-for-money MPV. Treat it as an 8-seater with the option to transport 11 under certain circumstances and there's really nothing in the market that can give it competition. Equipment like the Smart Key activated powered tailgate and sliding doors will be appreciated, but we feel that the car's looks and driving character are its major selling points, for sure.