Automotive
Published on January 17th, 2022 | by Subhash Nair
0
Lexus Shows NX PHEV OFFROAD Concept and ROV Concept Shown At Tokyo Auto Salon 2022
Lexus was not absent at the Tokyo Auto Salon 2022, showing two interesting concepts.
At this year's Tokyo Auto Salon, Lexus showed off two concepts – the NX PHEV OFFROAD Concept and the ROV Concept. The former is based on the all-new Lexus NX 450h+ plug-in hybrid model, which went on sale late last year. Its plug-in hybrid system is unaltered, with a 2.5L 4-cylinder sending power to all four wheels using the E-Four system. The front motor has 182PS and 270Nm of torque, while the rear motor has 54PS and 121Nm of torque.
What's new on this concept model is mostly aesthetic. The body is finished in a rather unique colour that Lexus calls Iron Oxide. It's reminiscent of the reflective platinum hue that covered the Infiniti QX60 Monograph Concept that was shown two years ago. They've paired this with a smoked Lexus emblem, matte black painted grille, roof rails, roof carrier basket and door handles, as well as 'smoked' door mirror visors and belt mouldings and rear badges. Tying the look of this NX PHEV OFFROAD Concept together is a set of 17 x 7J wheels wrapped in 265/65R17 all-terrain tyres.
The other interesting concept shown was the Lexus ROV Concept. This one's a little more special, but probably less interesting to your typical Lexus customer. That's because they've shown it before and because a buggy.
But not just any buggy. It's a 2-seater buggy that's powered by compressed hydrogen gas. No, it's not a hydrogen fuel cell vehicle, like the Mirai. This a buggy that burns through hydrogen gas using an internal combustion engine – a tiny 1L, 3-cylinder DOHC with 4-valves. Power from the engine is sent through a sequential transmission with paddle shifters, selectable 2WD and 4WD with a differential lock. Toyota Motor Company has been pushing this technology elsewhere, and now it's coming to a Lexus concept that no one can buy.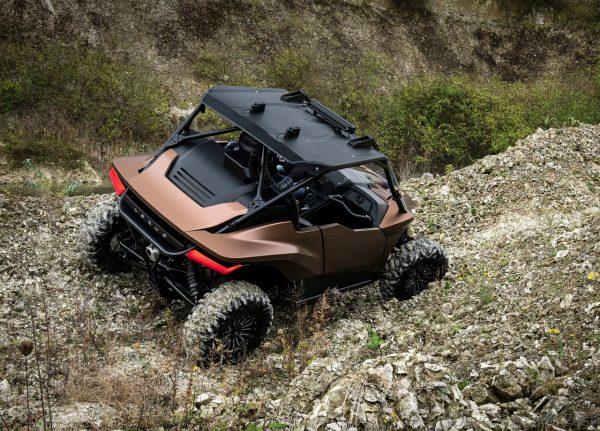 The hydrogen gas is kept in a high-pressure tank and the fast-burning hydrogen releases virtually no carbon dioxide emissions, making it a lot more environmentally friendly than petrol or diesel.
Although the ROV Concept is just a buggy, it's still a Lexus. As such, there are luxury appointments here. The Lexus Driving Signature is still present, and the transmission is operated via paddle shifters for a more involved drive. Lexus has also incorporated a hint of their current design language with the L-shaped headlights. Inside, there's a high-quality leather steering wheel, shift knob and synthetic leather seats for better durability in the wild.