Automotive
Published on January 21st, 2022 | by Subhash Nair
0
Malaysian Total Industry Volume For Vehicles Fell Two Years In A Row
The Malaysian Automotive Association (MAA) reports that the country's TIV has fallen for the second time.
The pandemic, lockdowns, two new governments, a global semiconductor and shipping crisis paired with a couple of major natural disasters has led to this – two years of new car sales falling. The government was quick to offer and extend (many times) a sales tax discount and exemption on new cars when the pandemic first hit, effectively bringing the price of new cars down by a small margin. They've now also put in place measures to incentivise electric vehicle adoption.
The MAA's latest report showed that Malaysia's Total Industry Volume (TIV) fell to 508,911 units in 2021. That's a drop of 4% versus 2020's numbers. It's an improvement versus the drop that Malaysia experienced in 2020, which was 12.4% versus 2019. The 2021 TIV was predicted by MAA to be 500,000 units, but it appears we achieved a little bit more than that.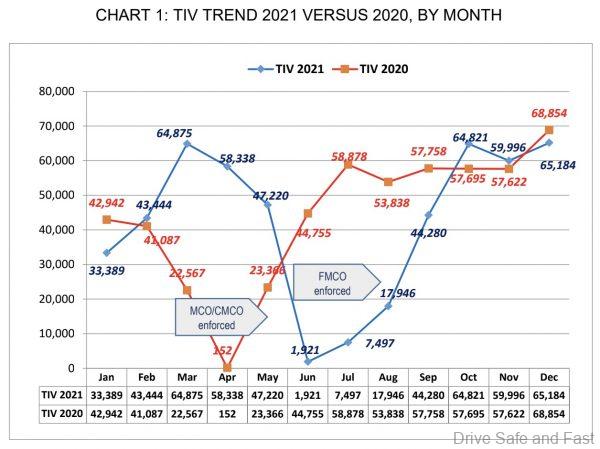 One sector that did experience growth in 2021 was the commercial vehicle sector. The growth was pretty substantial – enough to almost make up the difference in what MAA initially anticipated and what we finally got. The commercial vehicles segment grew by 15.9% or 7,705 units in 2021. It made up 56,248 units of the 508,911 vehicles sold in 2021. MAA chalks this up to companies investing in anticipation of an economic rebound.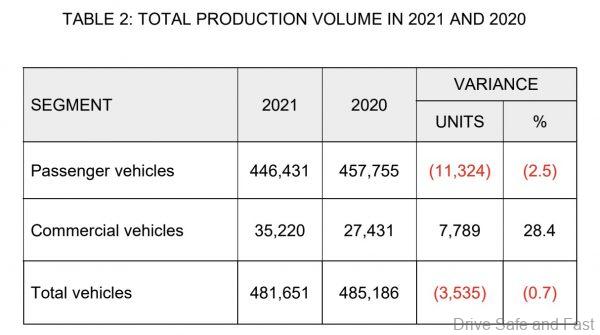 Similar to Total Industry Volume, Total Industry Production also took a hit for the second year straight.
The MAA Report also anticipates that 2022 will be a much better year for the automotive industry. Here's an excerpt from their report explaining why.
PRESS RELEASE
We have taken the following economic and environmental factors into account in our forecast for the Total Industry Volume in 2022:
The global economy is expected to rebound post-pandemic as economies worldwide have largely opened up;
The Malaysian government had projected a positive GDP growth of 5.5 to 6.5% in 2022 for our country. The growth will be driven primarily by an expansionary Budget 2022, normalisation in economic and social activities;
Continuation of the sales tax exemption incentive for passenger vehicles till 30 June 2022 and automotive companies ramping up production and deliveries of vehicles to fulfil backlog and new orders will be the main contributors in improving sales of new motor vehicles;
Bank Negara Malaysia (BNM)'s decision at its Monetary Policy Committee (MPC) meeting on 3 November 2021 to maintain the benchmark Overnight Policy Rate (OPR) at 1.75% will provide additional policy stimulus to accelerate the pace of economic recovery. This may help to stimulate domestic spending including for big ticket items like new cars;
Consumer's spending is expected to revive in tandem with the country's economic recovery.
Introduction of new models including electric vehicles at more competitive prices can assist to sustain buying interest;
Aggressive promotional campaigns by MAA members to push sales and to recover market share; and
The automotive industry may continue to face pandemic-related disruption challenges and supply chain issues such as new wave of Covid-19 infections, shortage of semiconductors chips, rising cost of freight, uncertainties in our domestic political scene, etc. which may affect the country's economic growth momentum and in turn the sales of new vehicles. However, it is unlikely these disruptions will cause major upheaval in the economy, given that much experiences that had been acquired by the authorities in handling of Covid-19 crisis over the past two years.