Automotive
Published on January 14th, 2022 | by Amirul Mukminin
0
Porsche, Shell Launch High-Performance Charger In Tangkak
A total of six Shell stations in Malaysia will be outfitted with 180 kW DC chargers
Porsche Asia Pacific and Shell's high performance charging (HPC) network, which was first announced back in March 2021, has begun operation with the opening of the first charging point at the Shell station in Tangkak, Johor.
This is the first of 12 charging points planned to be installed at six Shell stations located along the North-South Highway to allow electric vehicle (EV) drivers to travel conveniently between Singapore, Kuala Lumpur, and Penang.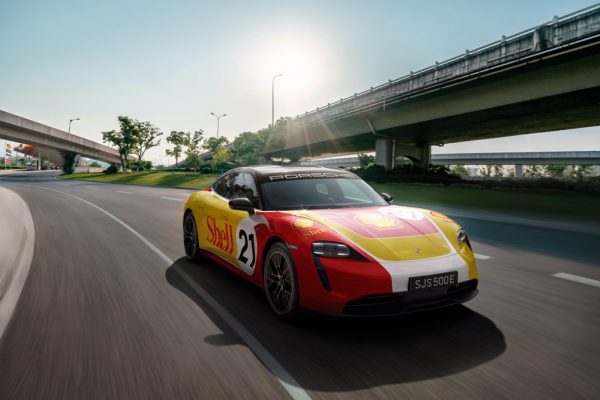 All the charging points are equipped with 180 kW direct-current chargers, which come with two CCS Type 2 charging connectors, allowing a single vehicle to be charged at up to 180 kW, or two vehicles to charge simultaneously at up to 90 kW each
These chargers, according to Shell, are "capable of charging EVs at super-fast speeds". In the case of the Porsche Taycan, 30 minutes of charging can bring its battery state of charge from 0 to 80%, which translates to about 390 km of extra range.
These charging points are available for use by all EV owners, either on a pay-per-use basis or subscription. The charges are as follows:
In the initial announcement, Shell said that the HPC network only covers Singapore and Malaysia. However, the latest statement issued by the petroleum reveals that there is a plan to extend the network to include Thailand. Details are scarce at the moment.
PRESS RELEASE
Customers will be able to charge their electric vehicles (EV) quickly along the North South Highway in Malaysia for a reliable and seamless drive from Singapore through Malaysia to Thailand later this year. This will be the first high performance charging (HPC) infrastructure EV network in Southeast Asia and Shell's first cross-country EV infrastructure in the region. This infrastructure will help all EV customers to reduce charging time, book and pay via an integrated platform.
Shell and Porsche Asia Pacific today announced the start of operations of a HPC station in Tangkak, Johor. This HPC station marks the start of the construction of 12 charge points at six Shell stations strategically located along Malaysia's North-South highway.
All EV customers will be able to use the HPC Network via a pay-per-use service or an exclusive membership plan by making reservations via an online booking app. They will also be able to take a break at the Shell Select retail outlets while waiting for their vehicles to be recharged.
Through this partnership, six Shell stations in Malaysia will be outfitted with 180 kilowatt (kW) direct-current (DC) chargers, offering the fastest charging capacity across Malaysia and later right up to Bangkok, Thailand.
Shell's new 180kW high-performance chargers are capable of charging EVs at super-fast speeds, which in turn translates to shorter waiting times in between charges. For example, the Porsche Taycan can be charged from zero to 80% battery capacity in around 30 minutes, providing up to 390km (WLTP2) of extra travel distance.
"Decarbonisation is a global challenge that requires broad-reaching, multi-faceted solutions. Our partnership with Porsche in meeting the needs of EV customers today is an important initiative under our Powering Progress strategy to achieve our goal of net-zero emissions by 2050. Together with Porsche, we'll be working to improve the EV charging experience along a key travel artery connecting three countries in the region," said Amr Adel, Senior Vice President, Mobility – East, Shell.
"At Porsche, we are committed to driving the future of mobility in South East Asia, as we pursue a carbon neutral balance sheet across our entire value chain by the year 2030. Our partnership with Shell is a result of well-aligned sustainability objectives and will further supplement our range of charging solutions for electric vehicle owners, with specific benefits accorded to Porsche owners. With this new high performance charging network, we are making what was once a vision – long-distance, cross-border emissions-free travel – now a reality," said Dr Henrik Dreier, Director New Business Fields, Porsche Asia Pacific.