TechTalk
Published on February 2nd, 2022 | by Daniel Sherman Fernandez
0
British BMW Police Cars Using N57 Engines Issued Warning To Drive Slow
BMW N57 engines are not safe to drive fast.
A week ago it was reported in the British newspapers that a British police officer driving a BMW police car in a high speed drive was killed when his BMW engine burst into flames. The WEST Yorkshire Police department for now have refused to reveal if any of their BMW patrol cars have issues with their engines meaning they cannot be used in high-speed pursuits.
This request comes after the death of PC Nick Dumphreys, 47, whose engine burst into flames on the M6 in January 2020 when he was responding to a 999 call.
However, the British police have withdrawn some of their high-powered BMWs as others are given speed restrictions amid safety fears following the death of this police officer.
Northumbria, Hertfordshire and Cumbria are among the police forces that have replaced the cars, used largely by traffic and armed response officers, amid concerns over a technical fault in certain BMW engine types.
Meanwhile officers nationwide using BMW models with an N57 engine have been told that they should travel at an absolute maximum of just 145km/h even when chasing suspects as reported by British news website, Telegraph.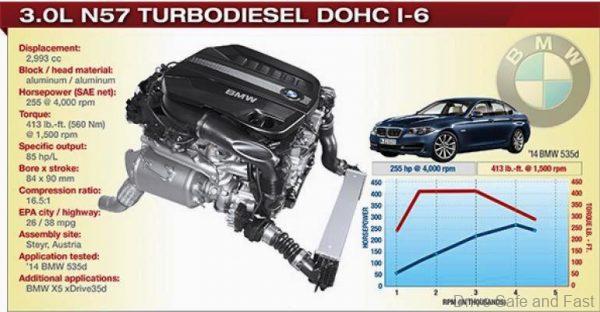 The advice is that they should not go more than 32 km/h over the speed limit in any given area.
A report from BMW this week said that the technical matter was linked to the particular way police use their cars and there is no need for action on civilian vehicles.
Emergency response vehicles are known to travel at higher speeds for prolonged periods and use heavier acceleration and breaking.
It is understood that BMW has been in touch with forces about potential issues since engine problems were linked to PC Dumphrey's death.
First reported by The Northern Echo, a whistleblower revealed a 'no pursuit policy' has been introduced on traffic and firearms officers not to exceed the speed limit in affected BMW vehicles unless there is immediate threat to life.
Meanwhile, the TwinPower Turbo 3.0L diesel inline-6 (codename N57) in the BMW 535 diesel sedan uses a single variable-geometry turbocharger in place of two separate turbos on board the earlier version that won Ward's 10 Best Engines trophies in 2009 and 2010.
The previous diesel also used the latest fast-acting piezo-electric fuel injectors, while the new one makes do with less sophisticated coil-based solenoid-valve sprayers that are less expensive but still can deliver six separate injections per combustion stroke.
More injections make for a quieter diesel. The earlier version made an extra 10bhp and 16 Nm of torque. We wait for further news from the BMW team on civilian cars using the N57 engine.