Automotive
Published on February 8th, 2022 | by Daniel Sherman Fernandez
0
Can Perodua Deliver An Electric Car For Under RM70k
This is the question many Malaysians have been asking.
It will probably be an electrified vehicle and NOT a full electric vehicle (EV) powered only by a battery system. Think about it. Perodua relies on Toyota for its drivetrain technology.
Toyota Japan till today cannot deliver a full electric car for under RM99,000 in Malaysia because the cost to produce a full battery powered car is far more expensive than a petrol powered car (plus our currency exchange rate is not favorable and there are no economies of scale yet for local assembly).
Fact, EV battery manufacturers say that prices have been increasing every quarter since the beginning of 2021. Compared to January 2020, battery cell prices have seen a hike of almost 30 percent. The battery cell constitutes 70 percent of the final cost of batteries. So a 30 percent rise in its cost leads to a 40 to 50 percent increase in the price of the battery used in EV's.
Currently the Toyota Aqua (pictured above) is the lowest priced electrified vehicle in Toyota's current lineup and it is not cheap to buy even in Japan. So why should it be cheap to buy in Malaysia?
The Toyota Aqua selling price range in Japan is from 1,980,000 yen to 2,598,000 yen (RM72,000 to RM95,000 before you add delivery costs and we assume there will no import tax).
The Aqua is the first Toyota model to feature the Comfort Pedal. By selecting the Power+ Mode, drivers only have to relax pressure on the accelerator pedal to generate regenerative braking force, and smoothly slow the vehicle.
The Comfort Pedal reduces driver burden by lessening the frequency with which accelerator and brake pedals have to be pressed, and also results in responsive feedback. The latest generation is also the first Aqua to adopt E-Four, which provides drivers with greater peace of mind when driving on snow-covered roads.
Thanks to a highly efficient 1.5-liter Dynamic Force petrol fed engine and an optimized HEV system, the all-new Aqua not only achieves compact class-leading fuel economy of 35.8 km/L, but combines this with the comfortable driving characteristics of an HEV.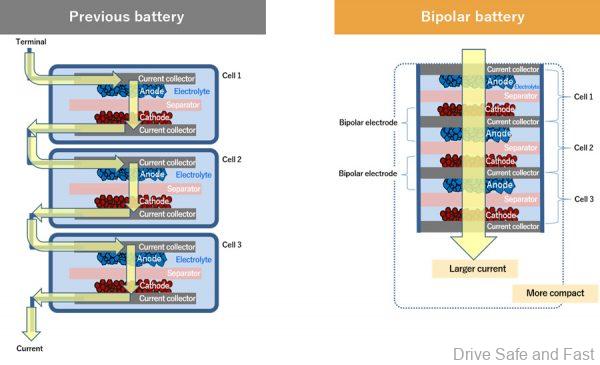 Bipolar nickel-hydrogen batteries explained in detail
Toyota believes that eco-friendly vehicles benefit society only when they come into widespread use and contribute to reductions in CO2; for this reason, based on the idea of "introducing sustainable vehicles practically," it is developing a full line-up of electrified vehicles comprising HEVs, PHEVs, BEVs, and FCEVs and is accelerating efforts to offer its customers a wide range of choices.
Since the launch of the first-generation Prius, Toyota has accumulated expertise both in the technological development and the quality management of batteries and hybrid systems; Toyota Industries Corporation, meanwhile, has developed proficiency in analysis technologies for the development and performance assessment of materials, through many years of developing batteries for electrified forklift trucks.
By combining their respective fields of knowledge, the two companies have worked to develop batteries so that they can bring electrified vehicles to the market and establish them as soon as possible.
Their efforts have led to the development of bipolar nickel-hydrogen batteries which, compared to previous generations of batteries, are both more compact and capable of generating higher outputs.
In bipolar nickel-hydrogen batteries, a cathode is applied to one side of the current collector, and an anode to the other; several of these structures, which are known as "bipolar electrodes," are stacked together to form a battery.
The Aqua takes advantage of the increased output of its bipolar nickel-hydrogen battery to deliver improved accelerator responsiveness, and realize smooth, powerful acceleration from low speeds.
In addition, the speed range at which the all-new Aqua can operate on battery power alone has been expanded, allowing the vehicle to run on electricity alone, without engaging the engine, in a wide variety of urban scenarios.