Automotive
Published on February 18th, 2022 | by Subhash Nair
0
Datsun 620 Truck Is 50 Years Old!
Many olders Malaysians will remember this familiar Datsun 620 pick-up truck.
Pick-up trucks today are often marketed for the urban cowboy, with as many features and safety equipment as the modern passenger vehicle. That was not the case 50 years ago when Datsun, now known as Nissan, launched the 620 truck. While it was not their first ever truck, it will be quite familiar to many Malaysians who pay attention to older pick-up trucks.
The Datsun 620 launched exactly half a century ago in February 1972. At least 6 bodystyles and variants were offered, including a regular cab, a king cab, with short and long wheelbase variants thrown into the mix, along with a crew cab version called the U620, which used a shorter, fully integrated truck bed for greater passenger comfort for four.
This last variant is ultra rare, and looks almost like a unibody truck with its sloped side rails. Also available was a "Custom" variant with stretched King Cab compartment in Japan. There was also a delivery van variant that's also quite hard to find.
The 620 truck was distinguished by its quad round headlamp design, which was typical for the 1970s. Only a generation later did more rectangular and squarish design elements creep into car design. Datsun also gave the 620 bold styling in the form of a strong shoulder line accent called the "wing line" or "bullet side". This looked like a bullet imprint on the front doors that joined up with the truck bed or with the rear doors.
Powering the Datsun 620 was a series of J and L family petrol engines as well as a SD family diesel engine. The petrol engine options displaced 1.5L, 1.6L, 1.8L and 2.0L while the diesel was a 2.2L with 66 horsepower. 3-speed auto or 4- and 5-speed manual gearboxes were available depending on the year of production and market.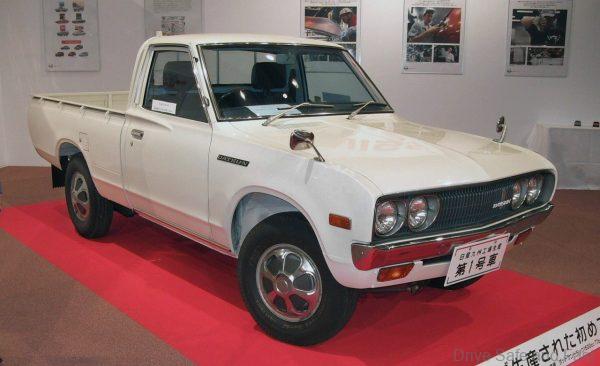 The Datsun 620 was produced and sold from 1972 all the way to 1979. It was replaced by the Datsun 720. This line of products would eventually evolve into the Nissan Frontier, which was sold alongside the Nissan Navara, which is now the main pick-up truck sold by Nissan in many markets.