Automotive
Published on February 11th, 2022 | by Subhash Nair
0
Great Wall Motors Has Bought Yet Another Car Plant, This Time In Brazil
Great Wall Motors has been aggressively expanding, buying up car plants and opening up its own globally.
Malaysians may be more familiar with Geely, but in many markets, it is Great Wall Motor that is better representing the Chinese push into the global automotive consciousness. This company has been growing very quickly. Back in 2020, they announced plans to double down on their existing Russian car assembly operations. Since then, they've gone much further in other markets. They bought and refurbished the General Motors Rayong Plant for their own use. Late last year, they even opened a European headquarters in Germany. And to start 2022 off, they've acquired a new plant in Brazil.
The plant is expected to be put into operation in 2H 2023 with an annual capacity of 100,000 units. Great Wall Motors intends to push hard into the Brazilian market with more than 11.5 billion Yuan in investments being planned for the local industrial chain over the next decade, potentially opening up 2,000 job opportunities there.
The company plans to launch 10 New Energy Vehicles (NEVs) in the next 3 years under the Haval, Tank, ORA and POER brands. POER is apparently a yet-to-be-expanded sub-brand of pick-up trucks from Great Wall Motor. These 10 NEVs will consist of 4 battery electric vehicles and 6 hybrid electric vehicles. These locally-assembled Brazilian models will also be equipped with 5G connectivity and Level 2 driver assistance systems. They won't be waiting for the Brazilian factory to come online as Great Wall Motors wants to launch its first vehicle in Brazil by the end of 2022.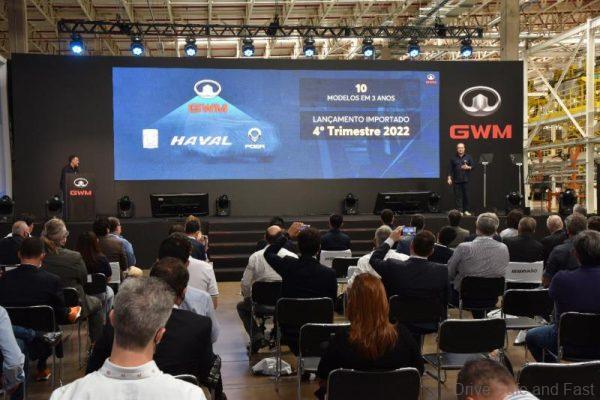 Here's Great Wall Motors reasoning for pushing into Brazil hard.
PRESS RELEASE
Brazil's auto market is one of the top ten markets in the world. Judging from the current car ownership, the market potential is huge. As the leading market in Latin America, Brazil has a sound automobile industry foundation, which is the strategic support for the global development of GWM.
In the Brazilian market, GWM will take the layout of science and technology as the first, introduce leading new energy and intelligent products, and bring new car experience to local users. Meanwhile, GWM will invest BRL10 billion (about CNY11.5 billion) in the next 10 years to deepen the ecological layout of science and technology. The relevant investment will create 2000 direct jobs for the local area.
Investing in the supporting system. GWM plans to build a stronger presence in the localized industry chain and invest in local key auto parts by stages, aiming to reach region-based cooperation with local suppliers, with a localization rate of over 60%, and invest in the local charging network to enable coverage across core cities in Brazil, by 2025. Focusing on advanced technology R&D system. GWM will step up technology R&D. On the one hand, GWM will establish the Latin American intelligent R&D base for localized development regarding intelligence and the internet of vehicles, and for the R&D of intelligent technology based on local scenarios and driving habits in Latin America. Meanwhile, it will recruit and train local cleaning and intelligence talent to highlight green production and actively popularize green ideas and environmental protection.
At present, GWM is accelerating the process of scientific and technological upgrading and globalization. In the whole process of globalization, Brazil will serve as a strategic market and take this as the center to open the curtain of the whole Latin American market, and bring Chinese intelligent manufacturing to the majority of Latin American users with products of a variety of technical routes such as pure electricity, hybrid and hydrogen energy.