Motorcycles
Published on February 12th, 2022 | by Daniel Sherman Fernandez
0
We Test The ECLIMO Electric Motorcycle For A Week
Has ECLIMO managed to deliver fuss free commuting at the right price?
We have been seeing a rise in the interest with electric mobility with urban Malaysians in recent months.
Ever since the Malaysian government decided to make electric mobility cheaper with the abolishment of import duties and yearly road tax fees, there was been daily information being fed online via social media from various channels on battery technology, shiny new electric cars and even some 'click bait' articles on national cars going electric at low prices.
The first thing to understand is that no battery powered vehicle will be priced lower than its petrol powered equivalent as battery costs remain very high, production is still low which relates of low economies of scale and finally, the research and development costs for battery powered vehicles continues to rise.
Now, when Penang based ECLIMO contacted me to ask if we would be interested to test ride their full battery powered scooter, we immediately said yes and their latest 'courier rider' single seat battery powered model was loaned to us.
ECLIMO is a 100 percent Malaysian based company and has been developing their electric scooter business for almost a decade. Yes, the founder has taken his time to work on getting his scooter right for the Malaysian buyer.
Looking like any basic scooter, it is clean and easy to live with design. Wide tires, wide seat and a simple meter cluster works very well.
The electric motor powering this ES-11 'Delivery' is rated at 6 kW max and 5 kW continuous power which is good enough for 110Nm of torque and a 100km/h top speed. The lithium-ion battery pack on the ES-11 is rated at 3.08 kWh will give the owner about 1,000 recharge cycles using 240 volt from your home TNB fed plug point.
A full charge will allow the ES-11 rider to travel an average of 90 to 110km with clean weight of about 155kg. Rolling on 13-inch wheels the ES-11 uses hydraulic disc brakes front and rear.
So, What Do We Think Of ECLIMO?
Well, we already own a simple 150cc scooter and for the last three years of ownership we have enjoyed using in for city center commuting. So with the ES-11 we did the same routine running and a little more to get an ownership feel.
Put the ignition key on. Wait for the meter to say 'RUN' and just twist the handle. No sound, no hesitation and no jerks. It just glides forward with no issue. Yes, it can be a little worrying when you do not hear any sound as pedestrians cannot hear you coming.
The ES-11 is a little heavier (battery pack and chassis) but it feels more stable at higher speed. Cornering is good and the brakes nice and firm. We used it on short trips and whenever we stopped for 'long' red lights, there will be another bike rider asking us 'ini motor elektrik ke'? or 'how far can you ride with a full charge' and the final must ask question 'how much is it'?.
Now, by the final answer, they all seem little convinced to own an electric two wheeler. This is because scooters and kap-chais use so little petrol (plus fuel in Malaysia is well subsidised) and for most, their riding range is in question.
Home charging is also an issue as most will live in an urban village (kampung bahru or kampong kerinchi for example) or low cost flats where charging point and even a three pin socket is not available. Then there is the charging time issue, 4 hours, where to wait?
So far, there is also no battery swapping for ECLIMO …. Yet … which could encourage higher sales with delivery and postal companies. ECLIMO informs us that they are already working on swapping technology for their next generation version.
For middle class users like us, we live in landed terrace house and it will be easy to charge overnight and also we will not be doing more than 70 to 80 kilometers in a day.
So, there must be a better battery for longer range. There must be a faster charging system of at least under 20 minutes which will allow them to visit a fuel station and have a drink or meal or toilet break while waiting.
You can buy a few versions of the ES-11 with its selling price starting from RM10,501 for the Basic model, or the ES-11 Pro for RM14,500 while the ES-11 Delivery we tested sells for RM15,900.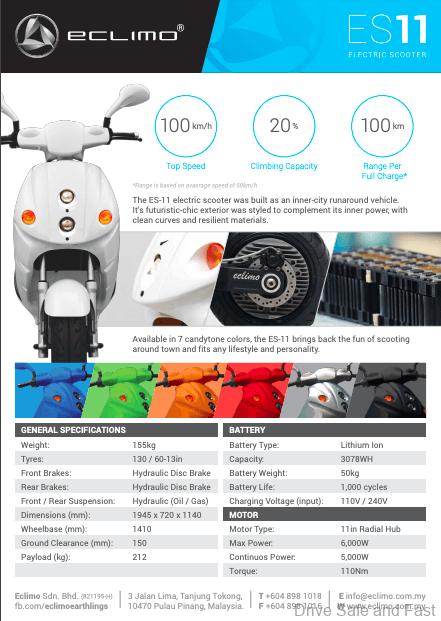 Fleet buyers can also consider the ECLIMO subscription plan which starts from RM600.00 a month.
Food delivery, fast food chains and courier service should be looking at this promotion.
Visit a ECLIMO showroom or dealer and take a test ride for yourself.