Automotive
Published on March 8th, 2022 | by Subhash Nair
0
Toyota And Lexus Malaysian Sales Up By 27% In Feb 2022 VS Feb 2021
UMW Toyota is optimistic about 2022 sales performance, especially when comparing to 2021's numbers.
UMW Toyota Motor and Lexus Malaysia are happy to report some positive sales performance so far in 2022. For February 2022, Toyota managed to move 6,366 units, which is a 26.67% increase compared to the 5,026 units they sold in February 2021. What's more, Lexus sold 66 cars in Malaysia last month, compared to 48 in February 2021, a 37.5% increase for the premium Japanese marque.
Toyota is confident that 2022 will be good year for them in Malaysia. Their March promotions are ongoing and these bring some RM4,000 in value-added benefits to customers purchasing selected Toyota vehicles throughout the month. What's more, they've got the new Toyota Camry and the Corolla Cross driving numbers up in their respective segments.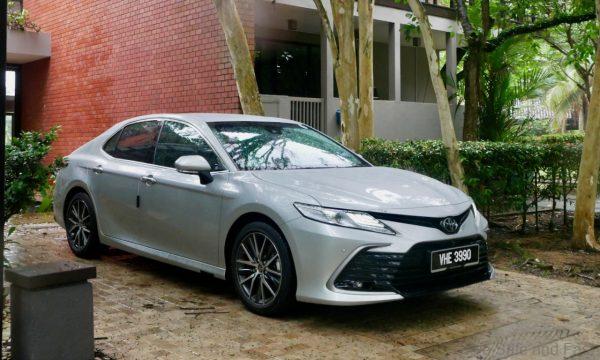 "We truly appreciate the support our customers have given towards the Toyota brand and are optimistic about the continuous growth of the Malaysian automotive sector. As we continue to innovate and bring mobility products offering the absolute best technology and safety that enhances lifestyles, we trust that Malaysians will continue to choose Toyota as their preferred road companion," said Ravindran K, President of UMW Toyota Motor.
Here's the press release with more information.
PRESS RELEASE
UMW Toyota continues to see positive performance in February, delivering 6,366 of Toyota and 66 Lexus vehicles. This is a significant jump of 27% compared to the 5,026 units sold for Toyota and 48 for Lexus in February 2021.
The No.1 non-national automotive brand is optimistic about 2022 with its ongoing March promotions that offer value added benefits worth RM4,000, featuring the Toyota best-sellers Vios and Yaris, as well as upcoming highly anticipated product launches.
Last month, UMW Toyota Motor unveiled the New Toyota Camry which boasts enhanced performance, improved safety and security that unleashes exquisite dominance. Built with the Toyota New Global Architecture Platform (TNGA), the 2022 Camry ensures a new standard of comfort, luxury and performance. The heart of the car is a 2.5 Dynamic Force Engine offering cutting-edge performance that works in tandem with the Direct Shift 8-speed Automatic Transmission to ensure the Camry's agility and efficiency.
In February, UMW Toyota Motor organised several initiatives to give back to the community it operates in. This includes a contribution of RM140,000 to the National Cancer Society Malaysia (NCSM) which goes towards the purchase of a new Digital Doppler Ultrasound Machine to provide better treatment to cancer patients.
UMW Toyota Motor also concluded its 15th Dream Car Art Contest that successfully raked in over 2,300 entries. The three winners of the National Contest will be representing Malaysia in the World Contest in Japan. The Dream Car Art Contest was launched in 2004 and seeks to cultivate children's imagination and artistic expression in the form of art. It invites children from all over the world to imagine what the future of mobility will look like by drawing their dream car.
"As a leader in mobility, UMW Toyota Motor is committed to propel society forward by educating, engaging and empowering people beyond the road. We endeavour to do what we can to give back and help local communities in various areas to enhance lifestyles of today and the future," Ravindran K. added.
Additionally, UMW Toyota launched a new 2S outlet with Body & Paint services in Skudai, Johor as part of its pursuit of delivering Toyota Quality Experience and convenience to its loyal customers. The opening of the new outlet is in partnership with Super Evergreen (Nusajaya) Sdn Bhd to accommodate the steadily increasing number of Toyota customers in the state. It joins UMW Toyota Motor's vast network of authorised facilities in the country.
For more information, visit Toyota.com.my or call the Toyota Freephone line at 1-800-8-TOYOTA (869682).