Automotive
Published on April 18th, 2022 | by Subhash Nair
0
Porsche Shows High-Voltage Battery Repair 'Concept'
Porsche shows what the future of EV battery repair will look like.
Porsche has set itself the goal of selling mostly electrified vehicles by 2025 – that's going to be a drastic shift not just for the sales team, but the company's after sales network. To prepare themselves for the inevitable, Porsche is modelling what the complete lifecycle of an EV battery will look like within their company – from manufacturing to recycling. That of course means looking to EV battery repair too.
They've been thinking about repairability from the get-go. The Taycan's lithium-ion battery pack, for instance, allows its 28 or 33 (depending on capacity) cell modules and individual components to be replaced. As total battery capacity is usually determined by the worst cell in the battery pack, Porsche's diagnostic tester is designed to find out which cell modules are underperforming and need to be replaced.
Porsche repurposes these underperforming battery cells for stationary tasks. These batteries are dismantled to the module level and installed in stationary energy carriers, allowing raw materials to remain in circulation.
Porsche is also keen to keep customers in the loop with regards to the condition of their own EV's battery. Starting March, Porsche Centres can read out data independently and send it to their customers. In the future, an app solution will allow customers to find out the battery health status of their vehicle right from their phones.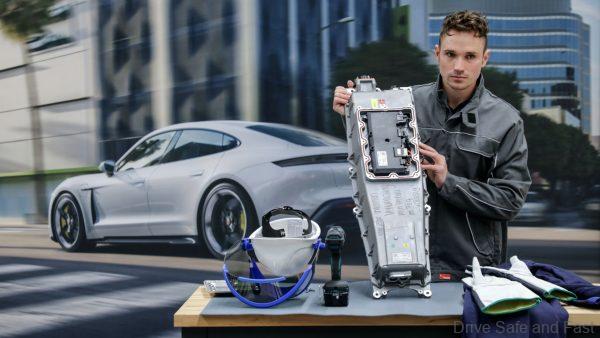 While electric vehicles require almost no maintenance, repair work is extremely difficult and costly, requiring expert training and specialist tools.
Here's how Porsche addresses EV repair.
PRESS RELEASE
Repair work on electric vehicles requires expert training and specialist tools that Porsche Centres must obtain before they can offer these services.
The service concept for electric vehicles therefore comprises several stages: the basis for this is the high-voltage support centre, which is specifically configured for HV battery repairs, has suitable specialist tools and has specially trained high-voltage experts as well. The sports car manufacturer is also establishing cross-regional hubs at certain qualified centres, which will handle repairs on high-voltage vehicles in areas where there is no high-voltage base close by. The Porsche Centre that originally accepts the vehicle for repairs will take it to the high-voltage hub, where the work will be carried out along with a final quality inspection, before it is returned to the original Porsche Centre.
If transporting the vehicle to a dedicated repair centre is not possible, a 'flying doctor' repair technician will be deployed. These mobile high-voltage experts can repair defective high-voltage batteries on site. Ahead of this, the relevant Porsche Centre receives all the high-voltage tools and replacement parts required for the work. This creates a comprehensive service network for high-voltage battery repair.
Three qualification levels for repair work
Last but not least, work on the Taycan, as the first production vehicle with a system voltage of 800 volts, also requires a clear division of tasks and responsibilities. With this in mind, Porsche has defined three qualification levels: qualified electricians, high-voltage technicians and high-voltage experts. Qualified electricians have a basic qualification that allows them to perform standard repairs to high-voltage vehicles, such as changing the tyres or wiper blades. They must be briefed and supervised by a high-voltage technician when working on a high-voltage vehicle.
High-voltage technicians are trained to work on vehicles that have been disconnected from the voltage supply, and are familiar with classifying and storing lithium batteries. They are also qualified to remove and pack high-voltage batteries classified as 'Normal' and 'Warning'. High-voltage experts have the highest qualification level at a Porsche Centre. They are the only people allowed to perform work inside high-voltage batteries, handle high-voltage batteries with insulation faults and prepare and pack these types of batteries for transportation.