Motorcycles
Published on April 6th, 2022 | by Daniel Sherman Fernandez
0
Which Scooter Will You Buy Tomorrow?
Yamaha XMAX 250 scooter vs APRILIA SR GT scooter.
Looks like Yamaha's dominance in the Malaysian scooter segment, especially the mid-range sized scooters might take a 'spill' when Aprilia launches their SR GT scooter in a few short weeks. The Yamaha XMAX 250 was updated in March this year and also got a slight selling price bump to RM21,998 (the previous selling price was RM21,225).
This latest version received smoked flashed lens, a revised smart ignition key and two new color choices. Not much really, but then it is a Yamaha scooter and a market leader for the past 2 years in Malaysia.
With a smooth engine delivery pf 22.5hp at 7,000rpm and 24.3Nm of torque at 5,500rpm this Yamaha is slightly more spirited over the Aprilia SR GT which delivers 17.43hp at 8,500 rpm and 16.5Nm of torque at 7,000 rpm. However, this latest Aprilia scooter might be priced a little lower (will be produced in the brand new factory in Indonesia) and offer more in terms of technology and handling.
Let us share the detail from the manufacturers press release below.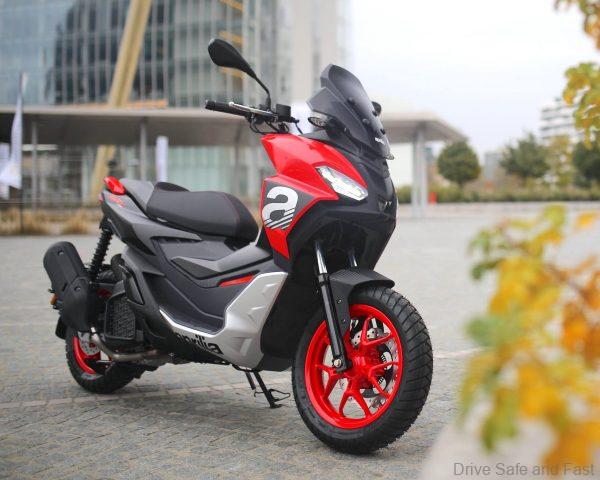 PRESS RELEASE: The Aprilia SR GT is the first "urban adventure" scooter by Aprilia, designed to re-inject the fun into everyday riding in the city, but also over long distances and less travelled paths, thanks to equipment inspired by the enduro world that makes it the ideal companion in every situation.
With the Aprilia SR GT, an active riding position and motorcycle-inspired wide, naked handlebar offer ultimate control, while long-travel suspension and increased ground clearance ensure any obstacle is easily surmounted when riding in the city. And the tyres, with their generous cross-section and "all terrain" tread design, allow the rider to adventure on any surface, from asphalt to cobblestones and white roads.
All of this is combined with the un-mistakable Aprilia sports design, the latest 200cc i-get engines complete with Start & Stop system for top-class performance, and comprehensive equipment that includes full LED lights, LCD instrumentation and the APRILIA MIA connectivity system.
With the focus firmly on fun, the Aprilia SR GT riding position is less rearward and more "active" with respect to a traditional compact GT scooter. But the rider can adopt a different position, with their feet further forward on the foot-pegs, for a more relaxed riding style that is less tiring over long distances. This is possible thanks to an ergonomic foot-peg, the external part of which resembles the shape of the protective plates on off-road bikes.
Standing out at the front is the full LED three-element light cluster, typical of Noale sports bikes, as well as the double fairing that emerges to the sides of the shield, but there is also a clear enduro influence, with the suspended windscreen and wide, naked handlebar that contributes to a sense of total control, particularly when maneuvering at low speed in city traffic. The handlebar is fixed to the vehicle with a refined die-cast aluminum riser that bears the Aprilia logo, while the ergonomic and intuitive handlebar control sets are clearly motorcycle-derived.
The instrumentation is fully digital, the large LCD display providing all vehicle data, as well as a wide range of travel information, which can be selected with the MODE button on the left-hand control block.
If the APRILIA MIA connectivity system (available on request) is present, once a smartphone is connected to the vehicle via Bluetooth, the instrument panel will also display notifications regarding incoming calls and messages. The system also enables call management using the specific connectivity button on the right-hand control block and the use of vocal commands to make calls or play music, by activating a playlist.
Know-how in the frame field is fully exploited by Aprilia technicians in creating the chassis, a guarantee of precise dynamic behavior. A double cradle frame in high-strength steel tubing is paired with brand-new long-travel suspension developed specifically for this model.
The front boasts a Showa fork with 33 mm stanchions and 122 mm of travel, 22 percent more than that of its closest competitor, while the rear features two double-acting Showa shock absorbers with coil spring and five-position adjustable pre-load, and travel equating to 102 mm, which is 7 percent more than the competition. This particular configuration, combined with specific suspension calibration, boosts control, comfort and safety, especially over uneven surfaces, but without impacting on the riding pleasure.
With its sophisticated chassis, a weight of just 144 kg with a full tank (148 kg for the 200 version) and light alloy rims – 14" at the front and 13" at the rear – with wide cross-section tires (110/80 and 130/70), Aprilia SR GT offers excellent agility and handling in traffic, but is also stable at more sustained speeds.
The braking system uses a 260 mm petal front disc. Lighter and better able to dissipate heat, this makes for better performance, while the rear features a 220 mm disc (petal-shaped on the 200 and 125 Sport versions).
The Aprilia SR GT also stands out for its minimum ground clearance of 175 mm, a never-before-seen value for traditional compact GT scooters. This allows the rider to easily surmount any bumps in the road and descend from any altitude.
All these characteristics, together with "all-terrain" tires with a slightly knobby tread, make Aprilia SR GT extremely flexible and suited to any type of use. Unstoppable in the city, where obstacles such as cobblestones, tram lines, manhole covers, potholes and uneven asphalt are common, SR GT is also ready for exciting journeys, during which the rider can even leave the asphalt and venture onto white roads.
So covering long distances is no problem at all, thanks also to a generous tank, its 9-litre capacity translating into a range of roughly 350 km.
A 25-litre under-seat compartment can accommodate a full-face helmet.
Belonging to the i-get family, this pair of very modern Euro 5-approved units with electronic injection, four valves and liquid cooling are the product of know-how at the Piaggio Group R&D center for scooter engines, the most important in Europe.
This Aprilia SR GT 200 introduces the brand-new 174 cc single-cylinder, which boasts 13 kW of power at 8500 rpm and 16.5 Nm of torque at 7000 rpm. Values of absolute reference, which ensure elasticity, rapid pick-up and a smooth ride in all conditions.
All models in the Aprilia SR GT range are equipped with the Start & Stop system known as RISS (Regulator Inverter Start & Stop System). The system does away with the traditional starter, which is replaced with a brushless electrical device installed directly on the crankshaft. There are many advantages, not least a quieter start, increased lightness and reliability, and lower fuel consumption.
The Start & Stop system automatically switches off the engine 1 to 5 seconds after the scooter has stopped (depending on whether the engine has reached its correct operating temperature or not). A slight twist of the throttle is enough to instantly re-start the engine, in total silence, as there is no traditional starter.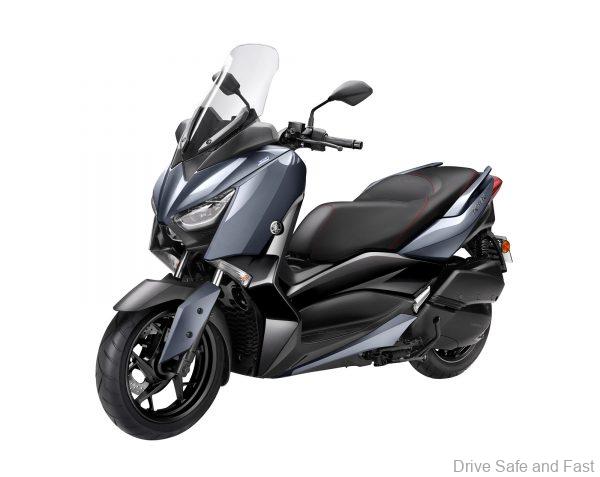 Malaysian brand guardian, Didi Resources will be launching this latest scooter in the coming weeks and we will share the final price and details.