Automotive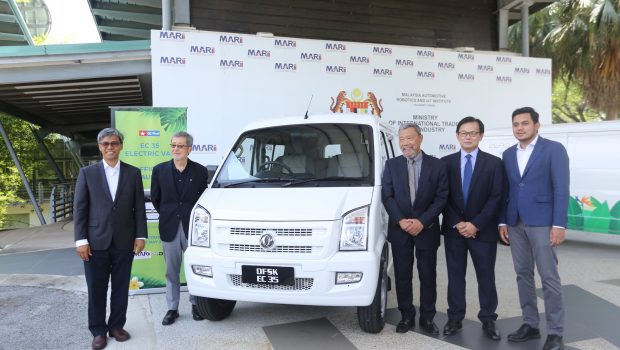 Published on May 25th, 2022 | by Subhash Nair
0
DFSK EC35 Electric Van Now In Malaysia For RM130,000!
The DFSK EC35 electric van is now available in Malaysia, but does it make sense at RM130K?
The Chinese made DFSK EC35 electric commercial van was launched in Malaysia yesterday by QC Fleet Management at an event at the MARii Cyberjaya headquarters. The DFSK EC35 is the first ever commercial electric van to be introduced to the Malaysian market, but it comes at a pretty high price of RM130,000 despite getting full EV tax exemptions.
This is most apparent when compared against mainstay petrol and diesel commercial vans available in Malaysia from brands like Daihatsu, Nissan and Toyota. Japanese vans like these can cost between RM68,000 to RM108,000 and come with a track record of service reliability and reputable after-sales networks. They're also familiar enough to most 3rd party mechanics.
To make the EC35 more appealing to customers, QC Fleet Management Sdn Bhd are also making 3-5 year leasing packages available. They're also giving customers who buy the van outright a 5-year or 120,000km powertrain warranty.
They're also claiming that the EC35 will deliver an annual savings of 33% in terms of servicing and a daily savings of 78% in daily fuel costs. While this may be true, it should also be noted that the EC35 can only be driven between 200-268km when its 38.7kWh lithium iron phosphate battery is fully charged. It takes 6-7 hours to charge on 6kW AC chargers but just 35 minutes to recover battery life on a 40kW DC Fast Charger.
As we explored previously, both AC and DC chargers are rare in Malaysia and having to install them can cost around RM5,000 for AC and over RM100,000 for DC charging. We doubt that 78% of daily fuel cost savings can be achieved if there's a 6-figure upfront cost.
About the DFSK EC35
The EC35 features a one-touch gear shift selector, a tyre pressure monitoring system, powered windows, central locking, electric power steering, ABS, EBD, triple reverse parking sensors, a reverse camera, automatic headlights, a driver airbag, 4 speakers and a 9″ infotainment system. A audio warning is emitted below 30km/h to warn pedestrians of its presence.
Powering the EC35 is a 60kW electric motor with 200Nm of torque, an intelligent management system to keep the battery and motor cool and regen braking. It is rear wheel driven with leaf springs at the rear and MacPherson style suspension in front.
This van has a length of 4.5m, is 2m tall and is 1.68m wide. It can carry 1090kg worth of cargo.
There are 2 seater and 5 seater variants of this van which offer 3.1 cubic metres to 4.8 cubic metres of cargo space.