Automotive
Published on May 5th, 2022 | by Subhash Nair
0
Porsche Acquires Shares In Group14 Technologies, A Lithium-Silicon Battery Startup
Porsche is betting big on Group14 Technologies and their silicon battery technology.
With the world setting itself on a path towards full electric vehicle adoption, Porsche are putting measures in place to make sure they're ready for when the big transition happens. The latest news is that the company has acquired shares in Group14 Technologies, an EV battery startup with a unique twist.
In the race towards making a more affordable and more energy efficient battery, carmakers are looking at loads of different strategies. Volkswagen, Toyota and Nissan have solid-state battery technology on the horizon. Some companies are banking on sodium-ion batteries. Group14 Technologies, on the other hand, is looking at silicon-carbon technology to leapfrog current lithium-ion battery technology limitations and Porsche wants to secure their future in EV battery technology with Group14's innovative silicon anode batteries.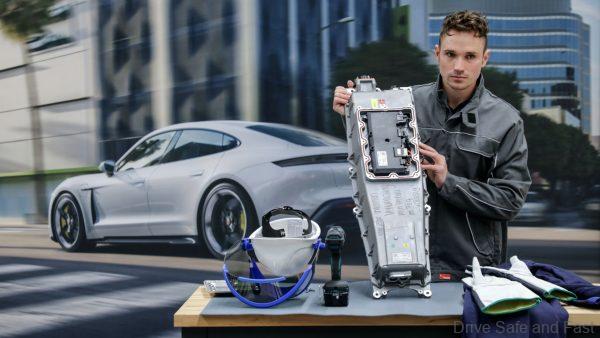 Group14 Technologies is a based in Woodinville, Washington. Porsche is serving as a lead investor, helping them raise 100 million US dollars and leading Series C funding where a number of companies have invested a total of 400 million US dollars.
Group14's new battery cell chemistry relies on silicon as the anode material, which significantly increases the power density versus batteries that are currently in production. This will enable Porsche to package vehicles with more energy-dense battery packs within the same dimensions, hence increasing the range of their future EVs. What's more, the new battery chemistry has lower internal resistance, enabling faster charging times.
Group14 operates a commercial-scale production factory for BAM in the state of Washington. The technology has already proven itself in batteries for electric vehicles and for extremely fast charging applications. Another factory will go into operation in South Korea in 2022. In addition to Porsche, several other companies – from global financial investors to strategic investors from the battery industry (OMERS Capital Markets, Decarbonization Partners, Riverstone Holdings LLC, Vsquared Ventures, Moore Strategic Ventures, and others) – are participating in the current funding round.
"The battery cell is the combustion chamber of the future. Our goal is to be a leading company within the global competition for the most powerful battery cell," says Lutz Meschke, Deputy Chairman of the Executive Board and Member of the Executive Board for Finance and IT at Porsche AG. "It is not without pride that we are leading this broad-based funding round. It reflects that, through our venture capital unit Porsche Ventures, we have now gained a deep understanding of the world of venture capital."
"Group14 is committed to elevating the performance of today's lithium-ion and tomorrow's solid-state batteries to accelerate the global energy transition," says Rick Luebbe, co-founder and CEO of Group14. "With support from a diverse consortium of investors, Group14 strives to deliver the next generation of silicon battery technology to support visionary OEMs like Porsche."