Automotive
Published on May 21st, 2022 | by Daniel Sherman Fernandez
0
Toyota Corolla GR Hot Hatch Bookings Open Next Month
Speculated selling price for the Corolla GR will be about RM368,888.
If you have not heard about the GR Corolla, no worries, we have all the necessary information right here. This is Toyota's second super hatch, after the GR Yaris which was sold out days after its release in Malaysia even with its high asking price of RM286,896 with the sales tax exemption. Now the GR Yaris was a souped-up super-mini powered by a 1.6 litre DOHC three-cylinder petrol engine. This car delivered 261PS and 360Nm of torque making it the most powerful three-cylinder engine of its kind in the world.
For the GR Corolla there is an uprated version of this engine under the hood and it delivers 304PS which is 43PS more and 400Nm of torque which puts neck to neck with the Mercedes-AMG A 35 4Matic which delivers 306PS and an equal 400Nm of torque with an acceleration time of 4.7 seconds and the recently launched VW Golf R Mk8 that delivers 320PS and 420Nm of torque and also an acceleration time of 4.7 seconds.
This GR Corolla might be 200kg heavier than its sibling, the GR Yaris, but it has an estimated (Toyota has not shared this figure as yet) acceleration time of 5.2 seconds which is 0.3 seconds faster than the GR Yaris was is 5.5 seconds. Still, does 0.3 seconds make difference in your life? It is just bragging rights when you sit at the same table with the GR Yaris, VW Golf R and Mercedes A35 owners.
So, at the end of the day it is which car tickles your fancy in terms of design, driving excitement and features. Plus, badge and exclusivity also play an important role.
The GR Corolla will be an exclusive car as it is built at a specialist's factory (Motomachi plant) in Japan, the same factory for the Lexus LFA supercar, Supra A80 and also the GR Yaris. Only 8,500 units will be produced in 2023 and about 6,600 units will be in left hand drive for North America. The rest will be shared in right hand drive countries, so expect a very limited numbers arriving in Malaysia.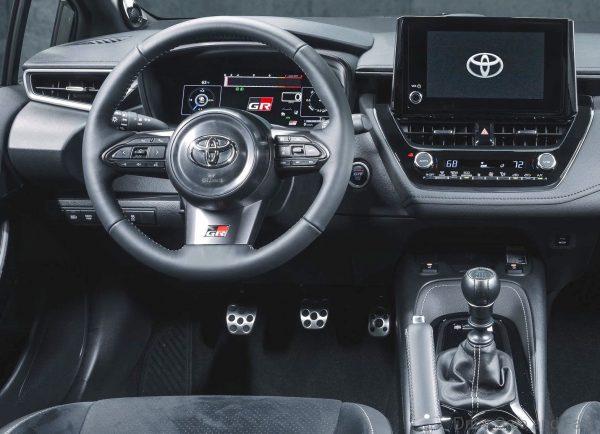 PRESS RELEASE: The GR Corolla boasts a strengthened version of the 1.6-liter in-line three-cylinder intercooler turbo engine found in the GR Yaris, resulting in a maximum output of 224 kW (304 PS).
Optimizing the GR-FOUR 4WD system, which is also featured on the GR Yaris, to match the specifications of the GR Corolla was among various initiatives undertaken to create a car that can be safely and securely controlled even when pushing it to its limits.
While adopting the basic body framework of the Toyota Corolla Sport to enable it to inherit the high-speed stability of a long wheelbase, the GR Corolla employs a 60 mm wider track up front and an 85 mm wider track in the rear to command a high level of cornering performance.
The result: sporty driving at will with peace of mind. And to complete the package, the GR Corolla retains a five-door, five-passenger layout for both exceptional usability in daily life and driving pleasure.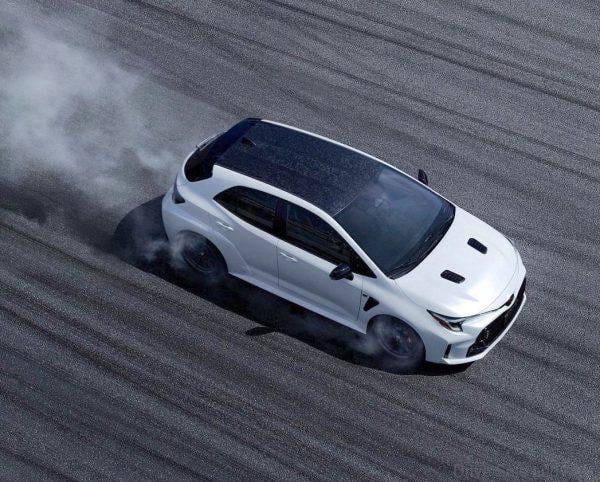 Main features of the GR Corolla
1. A motorsports-bred design refined into functional beauty
Exterior
While the basic body framework of the Corolla Sport has been adopted, 20 mm wider front fenders and 30 mm wider rear fenders produce a broader stance that foreshadows a spirited driving experience.
The triple exhausts of a muffler created to further increase the output of the 1.6-liter in-line three-cylinder intercooler turbo engine emphasize the unique, powerful, and sporty rear.
Honing the vehicle's cooling and aerodynamic performance on all kinds of roads, including racing circuits, dirt roads, and snow-covered roads, resulted in the inclusion of a front-bumper air intake and front-fender and hood-bulge air outlets.
A short-stroke shift lever positioned for natural operation by simply lowering the arm from the steering wheel enables quick gear changes.
A hand-operated parking brake has been used to allow better vehicle control even when pushing the car to its limits, such as when drifting.
The Full TFT Meter, which was developed exclusively for GR models, has been newly adopted. Inspired by race cars and reflecting insight from professional drivers, the new display improves visibility during sporty driving.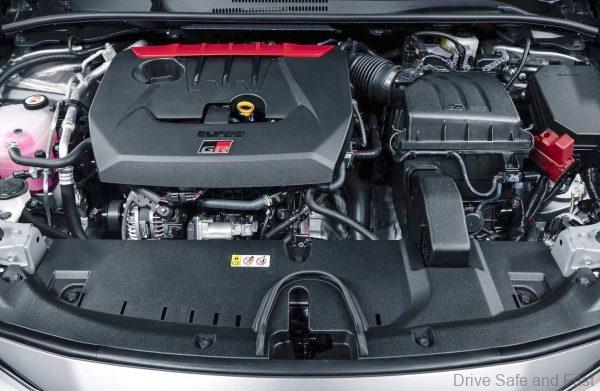 2. An evolved version of the GR Yaris 1.6-liter in-line three-cylinder intercooler turbo engine
Engine exhaust efficiency was improved to achieve even higher output from the same compact, lightweight, high-power unit that propels the GR Yaris. A valve-equipped triple-exhaust muffler reduces both exhaust pressure and noise. In sum, the engine provides overwhelming acceleration and a more-pleasant extension of RPMs.
3. A wide track and long wheelbase for excellent driving stability and control
The basic body framework of the Toyota Corolla Sport has been adopted, and, while retaining the excellent driving stability provided by a long wheelbase, high-speed cornering performance has been improved by widening the track by 60 mm up front and by 85 mm in the rear. Stability and control during sporty driving have been greatly enhanced, allowing confidence and enjoyment while driving as one pleases, even when pushing the car to its limits.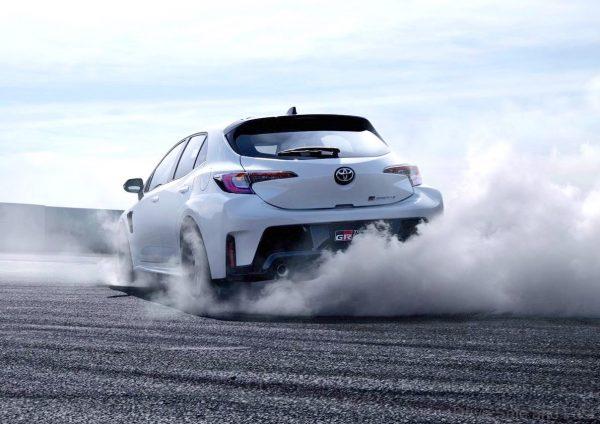 4. A selectable-mode GR-FOUR 4WD system and a high-rigidity body
The featured GR-FOUR 4WD system uses an electronic multi-plate clutch to provide variable front and rear driving force, like in the GR Yaris. This time, however, the system's "4WD" mode, which controls driving force distribution, and its "Drive" mode, which controls accelerator response, steering, and others, have been separated to enable selection according to driver preference and the driving environment.
Furthermore, the use of pillow-ball bushings and the optimization of the springs, shock absorbers, and wheel alignment combine to fully transmit the GR-FOUR's optimal distribution of driving force to the road surface. This has resulted in overwhelming cornering performance.
Body rigidity has been strengthened to achieve driving performance that agilely responds to driver operation. In addition to the high-rigidity basic framework made possible through production at the GR Factory at Toyota's Motomachi Plant, braces have been added between the rear wheel wells, to the under-floor tunnel, and under the floor in front of the fuel tank to improve handling stability.
Also, like in the case of the GR Yaris, the roof panel is made of CFRP molded by the SMC process, which offers a high degree of freedom of shape and contributes not only to increased rigidity but also to weight reduction.
Opposed caliper disk brakes provide stable braking force and controllability, enabling confident and enjoyable driving, even on racing circuits.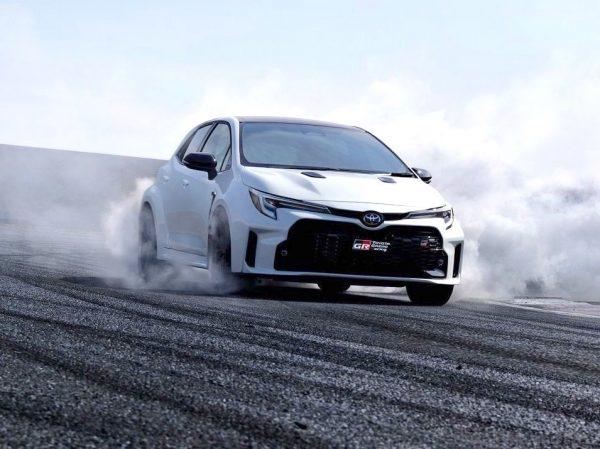 5. Advanced safety and security even for a sports car
The latest active safety package, Toyota Safety Sense, comes standard, allowing the combination of safety and security in daily driving and the driving pleasure of a sports car.