Automotive
Published on July 29th, 2022 | by Subhash Nair
0
CKD Volkswagen Golf R-Line Gets Firm Price Tag: RM169,990
Volkswagen Golf R-Line pricing was estimated at RM155K-165K, but instead it enters at RM170K.
Back in February 2022, Volkswagen Passenger Cars Malaysia previewed the first-ever locally-assembled Golf. The Golf MK8 would come to Malaysia in CKD form with R-Line styling and no ADAS. It was estimated that the C-segment hatchback would get priced between RM155,000 and RM165,000 when they first started taking orders.
However, that was probably the estimate with the SST exemption. Now that passenger cars are no longer exempt from SST, the Golf R-Line has finally been launched and the price tag is RM169,990 – nearly RM5,000 higher than anticipated.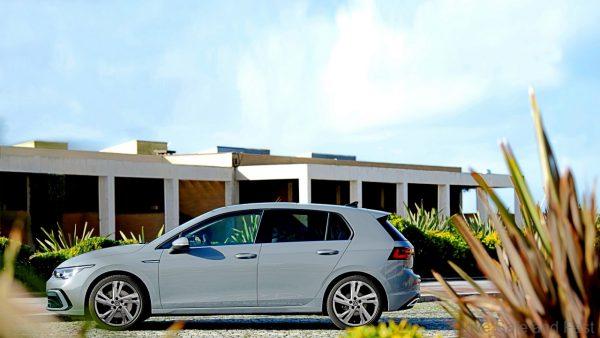 The Volkswagen Golf R-Line has the special significance of being the only locally-assembled C-segment hatchback in Malaysia. It goes up against the very successful 11th generation Civic and has an uphill battle to fight, but VW enthusiasts have long been waiting for the arrival of a more affordable Golf.
All previous Golf models have been fully-imported. Volkswagen in the past chose to compete against the Civic with their own C-segment sedan, the Jetta. But that product was ultimately pulled from showrooms altogether.
The locally-assembled Volkswagen Golf R-Line comes with 17″ Valencia alloy wheels, chrome-finished trapezoid faux tailpipe finishers, 3-zone auto climate control, sport seats and more.
Here's the press release with more.
It is available in Moonstone Grey, Kings Red, Atlantic Blue, as well as Deep Black and Oryx White with pearl effect. The Volkswagen Golf R-Line comes with 3 years of free maintenance and a 5 year/unlimited mileage warranty with 5 years of roadside assistance.
PRESS RELEASE
Volkswagen Passenger Cars Malaysia (VPCM) is pleased to announce the market introduction of the all-new, all-digital Golf R-Line, priced from RM169,990. The all-new model retains the timeless Golf design but is sportier and more expressive thanks to the R-Line styling.
Designed with aerodynamic efficiency in mind, the C-signature front bumper sits lower to the ground for a more responsive performance. Its sporty appearance is completed with 17" Valencia alloy wheels and a pair of chrome-effect trapezoid faux exhaust tailpipe.
Design and features in the all-new Golf are meant to excite, while the performance more than delivers. Under the hood of the R-line lies a 1.4TSI turbocharged engine that is paired with 8-speed automatic shift by wire transmission, producing 150PS and 250Nm of torque.
As the most progressive generation of Golf, the R-Line is equipped with enhanced digitalisation for seamless connectivity and convenience. Intuitive operation of the vehicle is supported by an intelligent voice control system, easily activated by saying "Hello Volkswagen" or by pressing the voice button on the steering wheel, it reacts to voice commands such as "I'm cold" and it will increase the temperature accordingly.
Voice recognition and voice quality (for phone calls) are seamless, as they can locate the person who is speaking (driver or front passenger) and respond accordingly, for example by identifying which interior zone's temperature needs adjusting.
VPCM supports with aftersales care through three years free maintenance, five years unlimited mileage warranty, and five years roadside assistance. Bookings and test drive arrangements can be made at all authorised Volkswagen dealerships nationwide. For more information, visit www.volkswagen.com.my
Lighting
Optimal visibility is ensured with full LED headlights and taillights, and there is a narrow LED illumination strip that runs across the front of the vehicle that distinguishes itself.
Comfort and Connectivity
To complement its sporty exterior, the R-Line comes with front sport seats fitted in Sardegna fabric and Art Velours side bolsters for deluxe comfort, complete with the R-line logo embossed on the headrest.
Experience visual treat in every ride as the 30-colour ambient lighting can be linked to driving modes, or simply in accordance with moods and preferences. There are five pre-set colour modes (Infinity, Eternity,
Desire, Euphoria, Vitality), and individualised settings to choose from.
A pleasant and comfortable interior environment is further ensured with the 3-zone Climatronic air con. Adjust the temperature with the touch slider or simply through voice control. There are two main modes for the air con – the Smart Climate and Classic Climate, and each comes with various helpful functions. The 3-zone Climatronic air con is equipped with Air Care to filter out pollen, spores, and particulates to keep the air clean.
Space and Convenience
Space remains a priority in this iconic hatchback as it offers plenty of room for all the family in the interior, whereas its 381-litre of luggage compartment can fit large pieces of sports and recreational equipment.
Another smart feature of the vehicle is that it gives quick entry access by automatically unlocking the doors when vehicle key is within the detection zone.
Safety
The all-new Golf is built for safety as the frame is constructed using a combination of high-quality steel that is extensively engineered to provide maximum occupant protection in the event of an accident.
Other key safety features include ESC (Electronic Stability Control); Post Collision Braking System that prevents a second collision; Electronic Differential Lock (XDS) that improves traction and reduce understeer; six airbags for post-collision protection and more.
Colours
The R-Line is available in five colours, including two new ones – Moonstone Grey and metallic Kings Red. Other colours are Atlantic Blue in metallic finishing, as well as Deep Black and Oryx White with pearl effect.
Price
The all-new Golf R-Line is priced at RM169,990 (RRP), and comes with three years free maintenance, five years unlimited mileage warranty, and five years roadside assistance.