Automotive
Published on July 11th, 2022 | by Daniel Sherman Fernandez
0
Proton Saga Is Celebrating Its 37th Birthday
Proton Saga, 37 Years Of Moving Malaysians Around The Country.
Yes, it has been thirty-seven years. One name plate that has served millions of Malaysians as a new car and as a used car.
The Proton Saga is a name that every Malaysian with an identity card knows and is able to recognize when it is passing by or just parked.
This is probably the only car in the world that has been a chess piece in a political game. Today, it is a commuter car that serves single people, families, retires and also a ride haling favorite.
37 years on and it is now technology filled and has safety features to rival most car brands around the world. The Saga continues!
Proton Saga Milestones. 9 July marks the birthday of Malaysia's first car, the Proton Saga. With over 37 years of history whilst serving thousands of proud owners in Malaysia and abroad, here are the 9 fun facts about the Intelligent Proposition!
1. The Proton Saga launch date was chosen to coincide with the then Prime Minister, Tun Dr. Mahathir Mohamad's birthday, 9th July.
2. The name "Saga" came about from the "Name the National Car Contest", which also stands for Safety, Achievement, Greatness & Ability"​.
3. There were over 36 prototypes before the first Proton Saga was approved​.
4. Proton Saga makes the list of the best-selling car in Malaysian Automotive history by selling over 1.95 million units since 1985. ​
5. With 1.95 million units of Proton Saga lined up, the chain could cover a distance of 8,000 km​.
6. Proton Saga has been exported to 28 countries worldwide with Bangladesh being the first export market in 1986 and the United Kingdom then after in 1989. ​
7. The Proton Saga is the most popular export model with over 59,000 units sold​.
8. The Proton Saga has also bagged over 22 Awards from various media channels since 1988. This includes the 2017 'Compact Sedan Of The Year Award from DSF.my Vehicle Of The Year.
9. Tun Dr. Mahathir Mohamad drove the first official car, a red Proton Saga, over the Penang Bridge.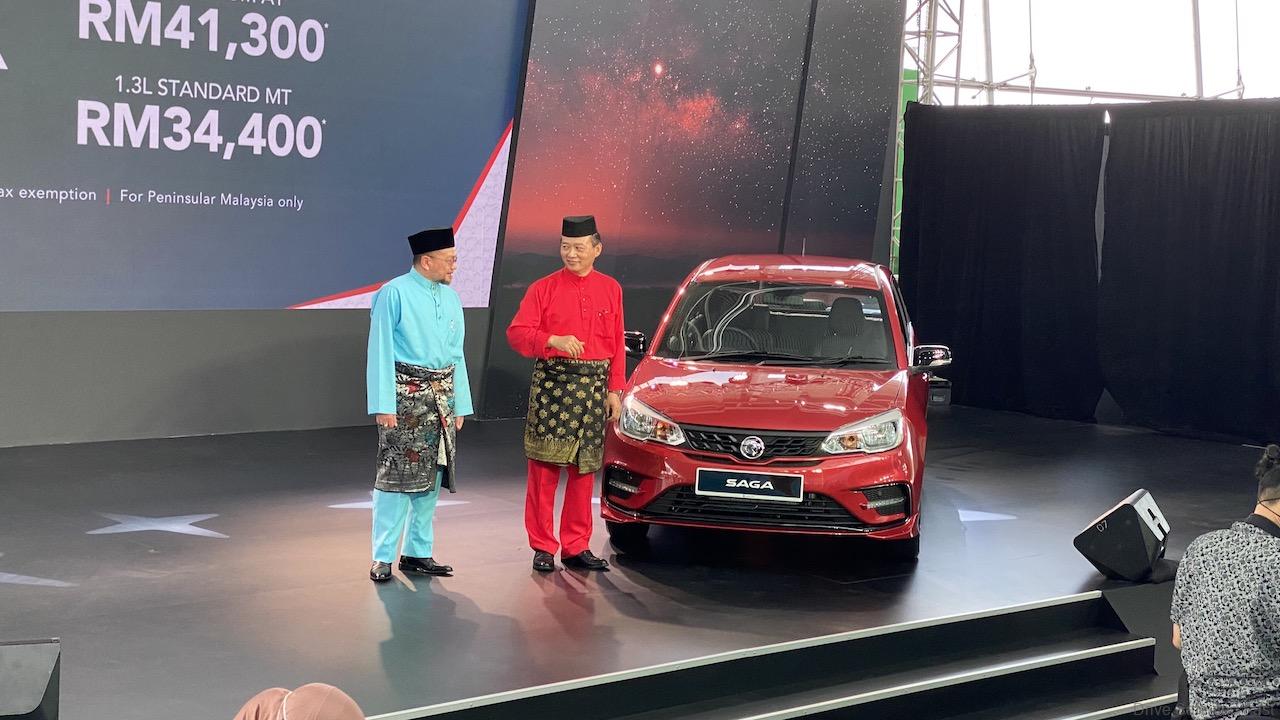 The 2022 Proton Saga continues the tradition of strong sales and high consumer confidence with four variants for available for sale.
Standard MT (RM34,400), Standard AT (RM38,300), Premium AT (RM41,300) and Premium S AT (RM44,300) OTR without insurance without SST. Colour choices are: Snow White, Armour Silver, Jet Grey, Rosewood Maroon and Ruby Red.