Automotive
Published on August 30th, 2022 | by Subhash Nair
0
Customs Seize RM11.4M Worth Of Vehicles During Op Bearing
The Royal Malaysian Customs Department catches AP-dodgers.
It's no secret that the 'collectable' car market is going a little insane at the moment. Some say its triggered by the industry's shift to EVs, others say it's all money laundering in action. Maybe it's all that travel money saved during the pandemic being spent. Regardless, one look at any listing site will show you that prices of old classics have shot through the roof. The situation has attracted some bad actors. Recently, the Royal Malaysian Customs Department seized 50 high-end vehicles which had been brought into Malaysia without Approved Permits (APs).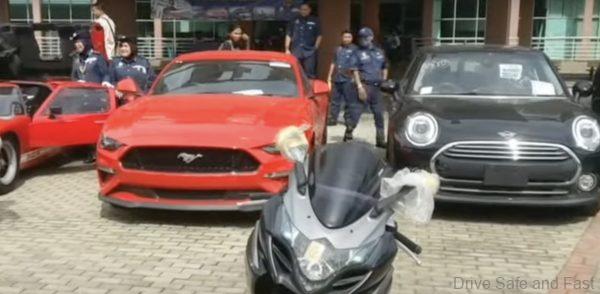 Of these 50, 9 were high powered motorcycles and the rest were cars imported from Japan, the UK and the USA. In total, these vehicles were worth an estimated RM4.3 million. The amount of duties dodged by importing them without APs equalled about RM7.1 million. Which exact models were seized is unknown but photos showing a classic Ford GT and a Ford Mustang 5.0L V8 were shared. There's also a video by Berita Harian showing a Volkswagen Microbus, a Toyota Harrier and a Toyota Alphard, a couple of Mini Coopers, a classic Ford Mustang and a BMW 3-Series wagon. A black Mazda RX-7 Efini was also filmed.
According to the Central Zone Assistant Director of Customs, Mohammad Sabri Saad, the vehicles were seized as part of 'Op Bearing' which focuses on imported vehicles around Port Klang. Op Bearing ran for two weeks in the second half of August 2022. The offences for importing these vehicles fall under Section 135 (1) (a) of the Customs Act 1957. Under Item 3, Second Schedule/Part 1, Customs (Prohibition on Import) Order 2017, these items can be imported subjected to approved permits issued by the Ministry of International Trade and Industry (MITI).
The initial investigations found that some of the vehicles were imported by international students who had just registered at Malaysian institutes of higher education. They were apparently unaware that importing these vehicles without an AP was an offence under Malaysian law but the Customs department is having none of that and will not entertain such excuses.
The Royal Malaysian Customs Department is urging members of the public to assist them with information related to smuggling activities. Contact them at 1800-88-8855 toll-free.