Automotive
Published on August 22nd, 2022 | by Subhash Nair
0
Why Did This EV Owner Need To Steal A Charge After Buying An RM262K Car?
After spending a big sum on an EV, some owners expect to charge for free.
The electric vehicle community in Malaysia has been steadily growing ever since the government announced that it remove all excise duties and import taxes on BEVs for a period of time. While it has been shown that EVs can be much cheaper than petrol cars to run, electricity is not free and depending on the rate of charge and other factors, it can be expensive as well. That doesn't excuse anyone from outright stealing electricity to charge their vehicle – which is what happened at the Shell Mint Hotel station along the Kuala Lumpur – Seremban Expressway some time last night.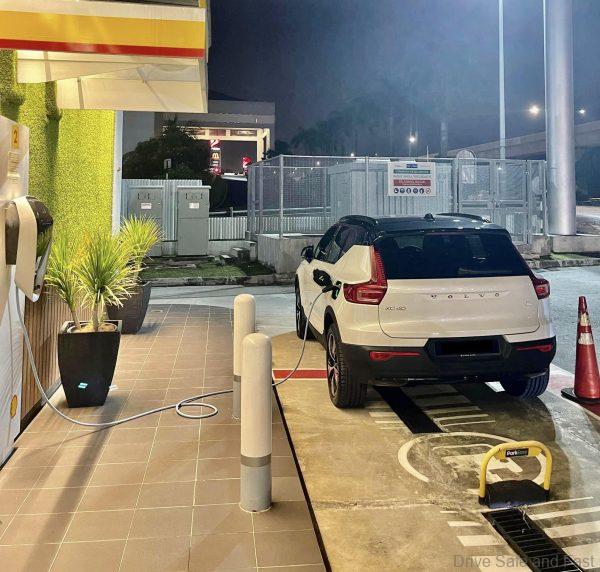 A user in the Facebook Group "Malaysian Electric Vehicle Owners Club" posted a photo of a white Volvo XC40 Recharge Pure Electric charging at the 22kW AC charging station there. This station is run by ParkEasy and is set up in a way that you just need to reserve the bay to lower a parking barrier. The charging cable is provided and the station should instantly start charging as soon as you plug it in.
The only thing wrong was that the parking barrier for that station was still up, indicating that the charging session was not paid for. According to the original poster of the photo, he double checked with the ParkEasy app and found that the charger was marked as available, meaning that no reservation was made.
If what the original poster put up is accurate, it would mean that the owner of this RM262,000 electric vehicle decided to cheap out on charging, which would have cost just a few dozen Ringgit at most. Besides also essentially stealing the electricity, this driver also selfishly denied other EV users from legitimately using the charger. Say someone else desperately needed to charge their vehicle and used the ParkEasy app to book that bay. He or she would come to the station only to find it occupied by this car.
We feel it's quite likely that this was a malicious act by the vehicle owner, but we've decided to hide his plate number as we don't have all the facts. It is possible that the owner simply wasn't tech savvy. There's an assumption that everyone who drives an electric vehicle is great with a smartphone. That's not true though. I know plenty of people in their 50s, 60s and 70s who drive plug-in hybrids but only use their phones for Whatsapp and Facebook. Maybe there aren't any large instructions printed next to the bay communicating that using the ParkEasy app was mandatory to charge. Even if the instructions were there, maybe the owner was desperate for a bit of juice to get home and couldn't find anyone to help them out with the app.
Regardless, this is clearly an issue that ParkEasy and the government has to solve. I'm surprised that there isn't already a call for a special 'EV' drivers licence to educate EV owners on the dos and don'ts. Malaysian auto 'experts' seem to always be the first to jump on this as a solution to everything, from pick-up truck crashes to ageing drivers.