Automotive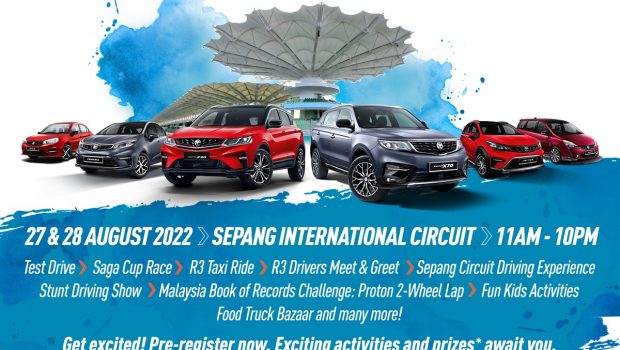 Published on August 25th, 2022 | by Subhash Nair
0
PROTON – MSF Merdeka Race Carnival 2022 Is Happening 27th-28th August 22!
Proton and Malaysia Speed Festival (MSF) are partnering up for a Merdeka-themed race weekend.
If you have no plans this weekend are looking to take your family out for some motorsport-related fun, you might want to try the Sepang International Circuit this weekend (27-28 Aug 2022). Proton are partnering up with MSF for a Merdeka-themed Race Carnival there. The main event is a series of 90 minute long races with over 150 cars participating. Racing kicks off with MSF Superbikes at 1pm. Car races begin at 2.30pm. The MSF Saga Cup Enduro flags off later in the day at 7.35pm.
Even if motorsport isn't quite your thing, Proton are hosting 25 activities and many of them are for the whole family, others are more related to Proton sales activities.
Here's the full list of activities:
1
Proton Sales
Check out Proton latest cars and to book a test drive.
2
Proton Spare Parts
Treat your PROTON car with PROTON genuine parts.
3
Proton Merchandise
Range of lubricants and merchandise for your PROTON and R3 collection.
4
Proton Commerce
Competitive hire purchase loan financing packages to new Proton car purchasers.
5
Precision Driving Challenge
Test your skills against the clock in this short, simple but challenging timed autocross course in a Proton car.
• Top-3 fastest times (per day) will win MSF & R3 merchandise.
• Proton FB & IG fans will have privilege access.
6
Water Park & Bouncy Castles
25ft inflatable Water Park and 20ft Bouncy Castle
7
Kids' Activities
Exciting games and activities for your kids –
o Hot Wheels
o Giant Jenga
o Clown & Balloon
8
Food Truck & Mechandise Bazaar
Featuring 10 popular kitchens on wheels
• Trade booths selling motorsports parts and apparel.
9
R3 Racing Display Car
Presenting PROTON R3 Models – Preve and Neo, that pay homage to Proton's race-winning cars at the Sepang S1k race.
10
Racing Simulators
Test your driving skills with a realistic, in one of the most advanced
racing simulators.
11
Car Club Gallery
Presenting some of the most interesting, modified cars tastefully
crafted by their owners, which is supported by Retro Havoc, Motor
Maniac, and Biadap.
12
Proton Car Clubs Gatherings
Various PROTON car clubs have been invited to gather at the event
27/8 will see a mix of several PROTON clubs of more than 200 cars
28/8 will feature 300 original PROTON Saga club members
gathering in support of the MSF Saga Cup Merdeka Enduro race in
the evening.
13
Proton Used Car Evaluation
FREE evaluation for any car models for resale value
• Proton FB & IG fans will have privilege access
14
Test Drive PROTON cars
Come and test drive PROTON cars at the event
• Full range of PROTON vehicles will be available for you to experience on the roads around Sepang
15
Interactive Technology Corner
Technology Introduction, tips for car maintenance and driving safety.
16
Sepang Driving Experience with PROTON
If you've never experienced driving on Sepang Circuit before, this is
the chance: PROTON will be providing the opportunity to
experience PROTON vehicles for a sight-seeing lap around the
world-famous circuit
• To qualify, place a booking on a new Proton vehicle during this
event or purchase a minimum RM200 at R3 Merchandise to be
entitled for this ride.
17
PROTON R3 Taxi Ride
• Experience an unforgettable ride in the PROTON R3 racing cars
driven by our team of drivers
• To qualify, place a booking on a new Proton vehicle during the
event or purchase a minimum of RM300 of R3 merchandise during
the event.
18
R3 Drivers Meet and Greet
Special appearance by, Karamjit Singh, Farique Hairuman, James
Veerapen & Leona Chin. Proton FB & IG fans can have privilege access
19
Stunt Driving Show
Choreographed driving shows by Professional Instructors
• Proton FB & IG fans will have privilege access
20
Proton ADAS Demonstration
Demonstration runs of how the critical active safety PROTON ADAS
safety systems such as Forward Collision Warning (FCW) and Automatic Emergency Braking (AEB) works
• Also, demonstrations of the Auto Park Assist feature in the PROTON X50
• Proton FB & IG fans will have privilege access
21
Malaysia Book of Records: Proton 2-Wheels Lap
Witness the setting of a new record of Sepang Circuit by a PROTON Saga: a never done before 2-wheeled lap of the full 5.53 KM Sepang Circuit by MSF stunt driver Faidzal Alang
• The Malaysia Book of Records will be on hand to certify the record
22
Merdeka Convoy Show
In conjunction with 65th National Day, 65 units of mix Proton models
convoy organised by PROTON.
23
MSF Merdeka Race 2022
The MSF Merdeka Race runs a series of 1.5-hour endurance races in a special round of the Malaysia Speed Festival Racing Series that takes place annually during Merdeka weekend. Over 150 cars take part in this spectacular race which sees various racing cars from original classic PROTON Saga to World Touring Car Series cars taking part. Racing kicks off with MSF Superbikes racing at 1:00 pm and then the car races taking place from 2:30 pm. The popular and
anchor race MSF Saga Cup Enduro flags off at 7:35 pm.
24
MSF Superbike Track Day
Club-level Superbike racing series sees budding clubman racers combat wheel-to-wheel on their screaming 15,000rpm machines at up to 280 km/h
25
MSF Megalap Time Attack
A Track Day for car racer to prepare for their race on Sunday.

PRE-REGISTER MECHANISM
To submit registration
Click on https://bit.ly/MSFRegistration2022
Visitors are required to fill in their personal information
▪ Key in the verification code that will be sent to your mobile number
Once complete, click submit
A confirmation Email or SMS message with your name and details will be sent to your
email and mobile phone respectively.
Please show the confirmation Email or SMS at the Sepang Circuit Paddock Entrance on
27 and 28 Aug to redeem your entry pass.