Automotive
Published on August 30th, 2022 | by Sounder Rajen
0
The Lucid Air Sapphire, The Most Powerful EV Sedan In The World
Lucid calls the Sapphire the pinnacle of electric performance, see why this is true
Lucid Motors is an American luxury electric vehicle (EV) manufacturer based in Silicon Valley, California. Their logo, the lucid bear represents the strength spirit of California which is what their cars are all about. Now they have released a new all-electric performance luxury EV, the Lucid Air Sapphire, and it's bonkers fast.
This makes the Lucid Air sapphire the world's first fully electric luxury super-sports sedan. This car was already a concept during the initial stages of development for the Lucid Air and the team spent countless nights, weekends and holidays in the engineering studio and track to bring this car to life.
Derek Jenkins, Senior Vice President (SVP) of Brand and Design at Lucid Motors said, "Sapphire is the embodiment of what ultra-high-performance luxury means to Lucid. What we see with (the) Lucid Air Sapphire is just the beginning for the Sapphire brand."
The Lucid Air Sapphire uses a triple motor setup, one for each rear wheel and one for the front wheels producing 1,200 horsepower, coupled with a new heat exchanger, better coolant flow and an upgraded battery system, this car does o to 60mph in under 2 seconds, 0 to 100mph in less than 4 seconds and has a top speed of over 200 mph (>321km/h).
"Because a three-motor Lucid Air was always part of the development program, it retains all the strengths of Lucid Air variants already on the market — including limo-like rear legroom, a voluminous trunk and frunk, and impressive efficiency," stated SVP of Product and Chief Engineer, Eric Bach.
The Lucid Air Sapphire also features stiffer springs, unique damper settings and tuning for the ABS, traction, stability control and electronic power steering on top of its three motors. It also comes equipped with powerful carbon-ceramic brakes to ensure enough stopping power for all that performance.
The design of the Lucid air Sapphire was meticulously tested, both inside and out, with the engineers squeezing maximum aerodynamics from the exterior and a new optimized interior and interior systems including a new sapphire mode which unlocks maximum performance.
Being an American company, Lucid took America's Imperial Blue racing colours as the inspiration for the exterior colour of the Lucid Air Sapphire and expanded on it with California's state gem, the Benitoite to give us the striking and beautiful blue we see now.
Lucid says that the Lucid Air Sapphire is just the beginning and more sapphire models will be added to the Lucid lineup in the future. However with a starting price of USD249,000 (around RM1,116,889), it does not seem likely that Malaysia will ever see these cars on our roads, save for the few ultra rich importing it.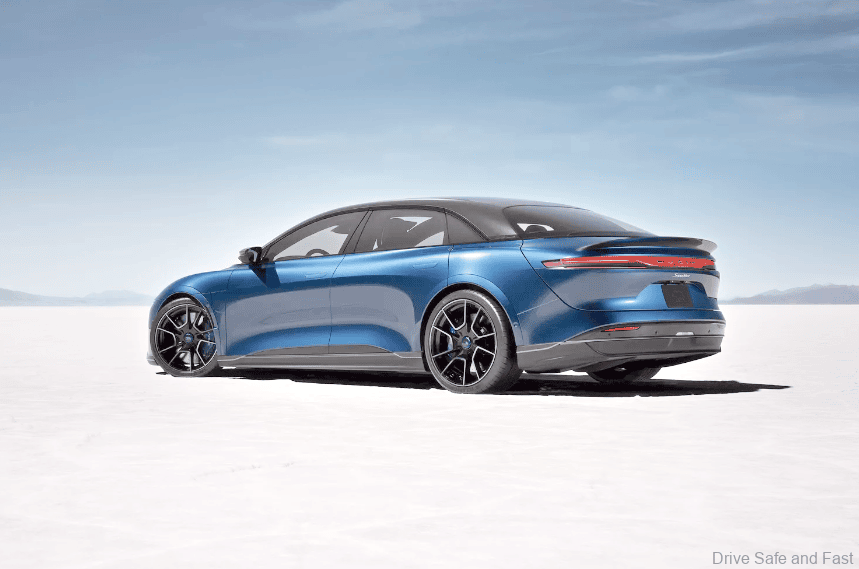 We got all this from the Lucid Motors website, check out their own write up on the Lucid Air Sapphire linked here.