Automotive
Published on September 5th, 2022 | by Subhash Nair
0
BMW iX5 Hydrogen Now In Production Using Toyota Technology
A small series of BMW iX5 Hydrogen vehicles are being made using technology from Toyota.
There's a lot of talk about electrification and a lot of ways to go about it. Many major automotive brands have already made the commitment to electrify their portfolio of products partly or fully. One of these is BMW Group, who has committed to 50% electrification by 2030. Instead of relying solely on battery electric vehicles to achieve this target, they've instead decided to attack the problem from multiple angles. One of those angles is with hydrogen power.
BMW fans will know that the company is no stranger to hydrogen power. They've been working hand-in-hand with Toyota on hydrogen fuel cell vehicles for many years, producing vehicles like the 2006 Hydrogen 7 Series, as well as the 2015 5 Series GT FCEV and i8 with Toyota technology. Now, they're taking that partnership with Toyota to the next level with the limited production BMW iX5 Hydrogen.
Just to be clear, this isn't an internal combustion engine set up to run hydrogen fuel, but a fuel cell vehicle that can produce electricity on the move using liquid hydrogen as its fuel for that process. A chemical reaction between hydrogen stored in the tanks and oxygen from the environment takes place in the fuel cell. Both get passed through the membrane in the fuel cell that creates electricity and water as a byproduct. A high-speed compressor with turbine and a high-voltage coolant pump have also been added in this second generation fuel cell.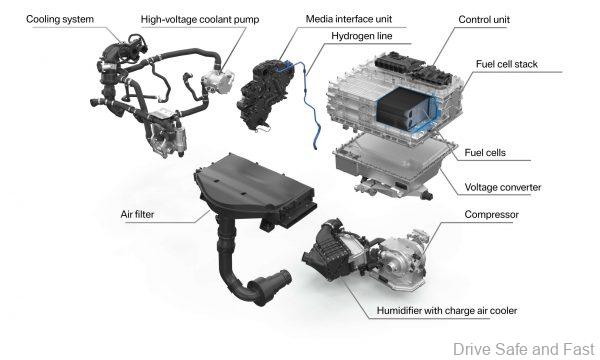 These second generation fuel cells have double the continuous output in a smaller size and weight package than the hydrogen fuel cells used in previous BMW applications. The iX5 Hydrogen will be used worldwide to test and demonstrate its viability.
The Fuel Cell system is capable of generating 170 hp, which isn't exactly up to par for BMW. So they've supplemented it with another electric motor with power from a high performance battery. These two motors bring the total power up to 374 hp. The system consists of two hydrogen tanks, the fuel cell, as well as the electric motor and its high performance battery.