Automotive
Published on September 12th, 2022 | by Subhash Nair
0
100,000 Mitsubishi Triton Pick-Up Trucks Have Been Sold In Malaysia
The Mitsubishi Triton has proved extremely popular in Malaysia.
When it comes to pick-up trucks, everyone knows the Hilux is the one to beat. That doesn't mean its rivals aren't popular. Mitsubishi Motors Malaysia proved this this week when sales of its Triton pick-up truck officially surpassed 100,000 units in the country. In fact, the Triton has maintained a healthy market share of 22% in 2021 (9,268 units) despite the various challenges facing the industry.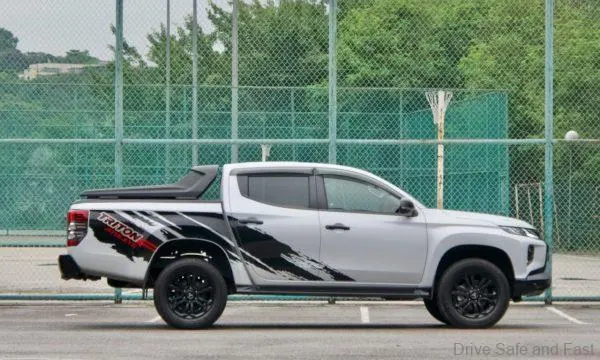 While the Triton's legacy can be traced back to the Mitsubishi L200, this 100,000 unit milestone only begins in 2005 with the introduction of the 4th generation Mitsubishi Triton and the formation of Mitsubishi Motors Malaysia.
To celebrate the achievement, Mitsubishi Motors Malaysia donated RM27,000 worth of diesel to its 100,000th Triton customer, Encik Muhammad Faerus who bought his unit at EON Auto Mart along Jalan Ampang. The amount it estimated to buy Encik Faerus enough fuel to drive his car 100,000km. Interestingly, the Triton is the only pick-up truck to get a 200,000km/5-year manufacturer warranty.
Here's the press release with more.
PRESS RELEASE
MITSUBISHI MOTORS MALAYSIA (MMM), the official distributor of Mitsubishi Motors vehicles in Malaysia, recently celebrated the Mitsubishi Triton pick-up truck reaching a 100,000-unit sales milestone in Malaysia.
Since the company's inception in 2005, Mitsubishi Motors has continuously delivered innovative products to Malaysians. The Triton pick-up truck has been the foundation of Mitsubishi Motors' business and over the years has benefited customers in terms of good handling, performance, safety, and priced competitively to cater to different types of customers.
Last year, the robust Triton pick-up truck maintained a solid market share of 22% despite the pandemic and healthy competition from its rivals. The Triton pick-up truck sold 9,268 units in 2021, a 34% growth compared to the previous year.
To commemorate this significant achievement, the company gave away 100,000 KM diesel worth up to RM27,000 to its 100,000 th customer, Encik Muhammad Faerus, a solar panel installation contractor in one of its authorized dealerships EON Auto Mart in Jalan Ampang.
"Since the Triton was introduced in Malaysia, it has proven to be one of the favourite pick-up trucks in Malaysia with its rugged look, versatility, and good handling. It is capable in the harshest of off-road conditions but also perfect as an everyday vehicle. Our Triton customers come from all walks of life- business owners, off-road enthusiasts, and lifestyle users. Over the years, with Triton's improved technology and functionality, it has inspired owners to take on challenges and push the boundaries in creating an exciting life journey, while fulfilling their dreams and ambitions," said Shinya Ikeda, CEO of Mitsubishi Motors Malaysia.
He added, "We would also like to extend our appreciation to the strong commitment of MMM's authorized dealers and business partners, as well as gratitude to the Malaysian government and media friends that have spurred Mitsubishi Motors Malaysia to achieve this significant milestone."
In conjunction with this celebration, Mitsubishi Motors is organizing a 100,000 Triton Ambitions Contest starting on 14 September 2022. The contest is organized for all Triton customers in view of the brand reaching this significant milestone. All owners have to do is fill up a contest survey form and submit a photo in either one or all four categories below:
a. The Stylo King- owner's most memorable leisure activity with the Triton
b. Tough Champ- owner's toughest experience with the Triton
c. Extreme Adventurer- owner's most memorable long-distance journey with the Triton
d. Mod Hero- owner's coolest modified Triton
By participating in the contest, a winner from each of the above categories will win 25,000KM diesel worth up to RM7,000 each. The contest form, photo submission, and detailed contest terms and conditions can be found on Mitsubishi Motors' official website at https://www.mitsubishi-motors.com.my/ from 14 September 2022 onwards.
To find out more about MMM's exclusive promotions and about the Mitsubishi Triton 4×4 pick-up trucks, kindly visit https://www.mitsubishi-motors.com.my/triton/