Automotive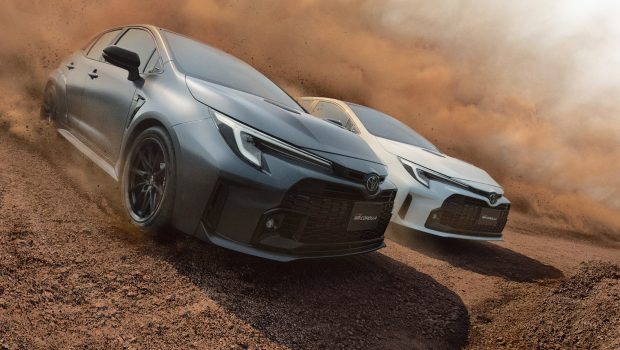 Published on September 6th, 2022 | by Subhash Nair
0
Toyota GR Corolla Morizo Edition Is The Ultimate Performance Corolla
The Toyota GR Corolla Morizo Edition is focused on one thing: performance.
The new GR Corolla, which was announced in April of this year, will be getting an even more performance-enhanced version in just a few weeks. This version will be called the GR Corolla Morizo Edition. "Morizo" is the driving alter ego of Toyota's President, Akio Toyoda.
Mr. Toyoda is a very experienced race car driver and he has poured his input into the development of this "Morizo Edition" of the already extreme GR Corolla.
The first big change for the Morizo Edition was to make it a two-seater. By dropping the rear seats, Toyota were able to shave 30kg off the final weight of the vehicle.
The two seats that remained were swapped out for semi-bucket type seats that help the driver and front passenger cope with additional g-forces.
They also increased body rigidity by applying 3.3m of additional structural adhesive as well as additional body reinforcement braces. Stickier tyres (Michelin Pilot Sport Cup 2, 245/40 R18) that are 1cm wider than the GR Corolla's were installed for better cornering stability and braking performance. The suspension has also been enhanced with monotube shock absorbers, leading to a shorter overall height by 5mm.
There are significant changes under the hood as well. The 1.6-litre 3-cylinder turbocharged engine here has been tuned for 30Nm of additional torque, bringing the Morizo Edition's maximum torque figure up to 400Nm. The mid-range torque has also been improved for better acceleration performance.
The other big change under the hood was the lower-geared differential gears and the use of closer ratios for gears 1, 2 and 3. This improves dynamic performance and acceleration considerably.
Of course, there had to be a few aesthetic changes to help distinguish this model from the GR Corolla. Outside, the only colour this vehicle is offered in is Matte Steel.
There's also Morizo's signature on the windshield. Inside, many of the inlays are finished in cast-black paint. There's also an Ultrasuede-wrapped steering wheel and centre console.
The wheels here come with the GR logo.
We're unsure if the Toyota GR Corolla Morizo Edition will make it to Malaysia. Bookings are already rolling in and Toyota are already using a lottery system to determine who gets it first in other markets.