Automotive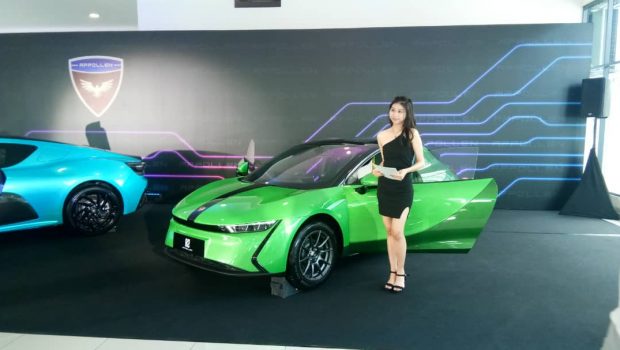 Published on October 18th, 2022 | by Subhash Nair
0
Appollen Is A Singaporean Car Brand Rebadging Chinese EVs With Intent To CKD In Malaysia
An unknown brand, Appollen, yesterday opened a showroom in the heart of KL. Who are they?
We've commented countless times before that there are tonnes of new car brands coming out of China seemingly every other month. Some of these, like Byton go under fairly quickly. Others, like Qoros, just fade into obscurity after plans fall apart. I remember seeing booths for both of these brands when I went to the 2018 Beijing Auto Show. I also remember taking a photo of another brand with a distinctive dragonfly logo called QianTu. But I'll get back to that in a moment.
Enter Appollen
Yesterday, we got word of a new showroom launch in Malaysia by a brand called Appollen. They're a NEW brand that was just established in Singapore this year. They've also set up a Malaysian registered offshoot for their operations here.
It's clear that this is a company with no experience in the auto industry, but they've got big plans including introducing the three vehicles previewed into the Malaysian market by next month and carrying out CKD operations in Malaysia by next year or the year after.
According to its website, the company wants to build 100 showrooms and 200 lifestyle stores next year. They also want to put up 2,000-3,000 charging stations. Very ambitious. They must have massive funding behind them.
Appollen is saying that they've found a way to tie blockchain technology to driving, so you can earn as you drive. We're not a tech website so we will refrain from commenting on this feature. But cars are not easy things to manufacture, so where do you think Appollen got the 3 very production-ready models from?
Well, the answer is QianTu Motor, that brand I noticed back in 2018. QianTu fell off my radar after a few months, but the company hasn't quite gone away yet.
Appollen showed three electric models, a sporty coupé called the S1 with an indicated price of RM588,000, a 3-door hatch called the A1 and a 5-door hatch called the A2, which will be priced between RM112,000 and RM136,000.
What is QianTu Motor?
In the beninging
QianTu translates to 'Future'. They were founded as a subsidiary of Great Wall Huaguan Automobile Technology Development Company, which is not the same as Great Wall Motors (and it doesn't look like it's a subsidiary of GWM either). QianTu Motor was established in 2016 and soon unveiled the K50 sports car in pre-production form.
In April 2018, when I visited the Beijing Auto Show, QianTu showed not just the K50 production model, but also concept versions of the two hatchback electric vehicles Appollen are calling the A1 and A2. Under QianTu's branding, they're called the K20 and K25.
By 2018, the QianTu K50 was in the market, produced at the company's facility in Suzhou, Jiangsu Province. The K50 had striking looks and offered pretty exceptional specifications for a company with no experience in the field. Its dual motor setup had an output of 376hp and 580Nm of torque and a 78+kWh lithium-ion battery with fast charging capabilities. However, it had some drawbacks.
It weighed 1.9 tonnes, which meant its 0-100km/h time was 4.6 seconds. That's not bad, but pretty lame for a performance-dedicated electric sports car. That acceleration time, by the way, could only be achieved when 'Boost mode' was available. The availability of Boost mode was tied to the battery's charge state and temperature and several other factors. What's more, its top speed was only about 200km/h, meaning it could be passed by the average turbocharged family SUV on a long stretch of highway. Worst of all was the build quality issues. And range? That was only around 370km – usable, but not impressive. For 700,000 Yuan (about half a million Ringgit), there were better options on the market.
And that's why, despite having an annual capacity of 50,000 vehicles, QianTu was only able to sell about 191 units of the K50 in 2019. They tried partnering up with Mullen to sell the K50 as the 'Dragonfly' in the USA, but it doesn't look like those plans got beyond just a webpage.
What Happened During And After The Pandemic?
We're not exactly sure, but it appears they went dark for some time. Some other company called Fano Motors tried to get involved but that didn't quite work out.
In late 2021, QianTu suddenly burst back onto the scene with new leadership in the form of Su WeiMing (a former high-ranking exec at Volkswagen China) and a new company called Beijing Binli Automotive Technology Development Co., Ltd (Binli Auto). We're not sure what the arrangement is, but QianTu is more 'certified' to produce and sell cars than Binli Auto. So Binli Auto is now partnered up with QianTu's parent company.
By the end of 2021, Suzhou Beifing Laser Technology Co., Ltd and Monash University Suzhou campus had signed a strategic cooperation agreement with QianTu Motors' parent company too. To add more cooks to the kitchen, QianTu Motor also signed up with two other companies – Golden Port Holdings and Blue Ocean Creative to help them create offline events and online racing simulation games.
So, Who Are QianTu Motor?
They're a small Chinese automotive start-up that can make a passable vehicle but failed to make an impact in the beginning. They've now got fresh blood and capital and are probably changing their business model to serve as an OEM for other start-ups (such as Appollen) who want to get in on the tax-free EV game wherever opportunities exist.
Should you buy a half-a-million Ringgit, good-looking, relatively fast Chinese EV? It's your money. Until we've driven one ourselves, we can't say.
Most of these facts are sourced from relatively small websites in China that have been Google Translated into English. Do your own reading and come to your own conclusions about QianTu Motors by visiting the links below.
https://inf.news/en/auto/0fb9d8097cec90dee83c261b2528482a.html
https://www.sohu.com/a/313041488_268260
https://pandaily.com/qiantu-motor-to-debut-in-the-united-states-through-spac/