Automotive
Published on November 15th, 2022 | by Daniel Sherman Fernandez
0
Honda Civic e:HEV Launched And Here Are Its Features
This all new Civic e:HEV arrives with segment leading features and an asking price that might tickle Malaysian buyers looking at premium compact sedans to reconsider their purchase and visit a Honda showroom instead.
Why? Well, let us show you and explain the numerous premium features and advanced technology that comes with a price tag of just RM166,500.
In case you were wondering, this 11th-generation Civic is the final mainstream Honda model to be electrified for 2022, following the Honda City, Honda City hatchback and the ultra popular HR-V Crossover.
Does this mean there will be other electrified Honda models in Malaysian showrooms in 2023? Well, yes!
Meanwhile, this new Civic variant will feature the most advanced iteration of the brand's award-winning e:HEV full-hybrid powertrain.
This combines a power-dense lithium-ion battery and two compact, powerful electric motors with a newly-developed 2.0-litre Atkinson-cycle petrol engine, which achieves industry-best equaling 41 percent thermal efficiency and features a direct injection system optimized for faster and more efficient combustion and greater torque output.
In addition to direct injection system, a number of technologies such as low temperature active catalyst, and a modified design on intake port help contribute to improved fuel economy whilst achieving specific output.
The result of these technological advancements is a WLTP 'Combined' CO2 emission figure of just 108g/km (WLTP), with fuel economy an equally impressive 4.7l/100km.
This exceptional efficiency is combined with a maximum power output of 184PS and 315Nm maximum torque, ensuring this all new Civic variant will be a compelling driver's car within the C-segment.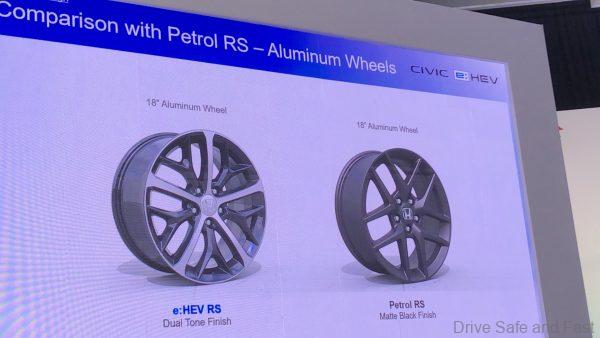 This superior efficiency and energy management has been achieved through the application of innovative new technologies. For example, the latest version of Honda's Intelligent Power Unit (IPU) is 23mm flatter and 1kg lighter than previous iterations, but with a higher cell count of 72 which is the largest fitted to any of the current Honda e:HEV range.
Interestingly, the slimline IPU sits under the rear seats, maximising cabin space and usability.
A new Power Control Unit (PCU), located under the bonnet, enables the faster charge and discharge of electricity, contributing a further 12 percent increase in power output over previous e:HEV applications.
The increase in power density and output of the PCU increases electrical output, allowing EV drive to take more of the load, and is handled by new aluminium-core high-voltage wiring. Aluminium wiring will contribute to 40 percent of weight reduction compared to conventional copper wiring.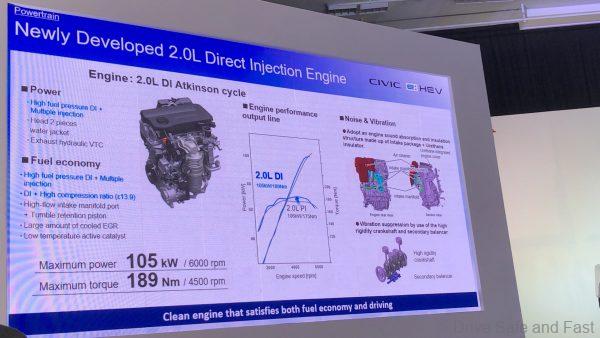 The advanced powertrain shifts seamlessly between EV, hybrid and engine drive with no input from the driver. Four drive modes which is Eco, Normal, Sport and a new Individual mode, which we believe many Malaysian drivers will appreciate can be selected by the driver to tailor the vehicle's response in the area of powertrain, steering and display.
This engaging flexibility is underpinned with exceptional levels of refinement, with close attention paid to eliminating unwanted noise and vibration.
Meanwhile there is a secondary balancer shaft and a high rigidity crankshaft within the internal combustion engine to ensure smooth running, whilst unwanted engine noise has been countered through the increased application of insulation on the intake manifold and engine cover.
In addition to these steps, clever application of Active Noise Control (ANC) further limits any noises that could resonate into the cabin, whilst Active Sound Control (ASC) heightens the sporty tones of the internal combustion unit.
So, all the above for just RM166,500? Why look at the current German compact sedans will less space, technology, features and drive dynamics that cost from RM218k?