Motorcycles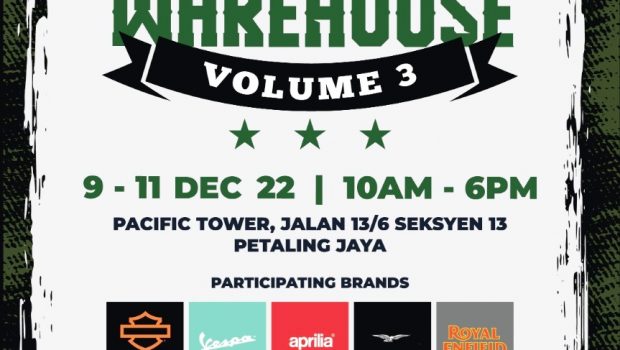 Published on December 8th, 2022 | by Sounder Rajen
0
Get Your Dream Bikes And Accessories At Big Bike Warehouse
Big Bike Warehouse Volume 3 goes from 9 to 11 December 2022
Malaysia's Big Bike Warehouse is the best place for motorcycle enthusiasts to get their dream bikes and this year, the event returns in its third edition from 9 to 11 December 2022 at the Pacific Tower, Jalan 13/6 Seksyen 13 Petaling Jaya so if you want your dream bike, head on over and get it at the Big Bike Warehouse Volume 3.
Featuring major brands like Harley-Davidson, Royal Enfield, Aprilia, Moto Guzzi and Vespa all in one spot, you won't find a better deal for a more diverse set of motorcycles anywhere else, especially with the year-end deals offered at Big Bike Warehouse Volume 3.
Moreover, the Big Bike Warehouse Volume 3 is strategically located at the heart of Petaling Jaya making it easy for anyone and everyone to find their way to the warehouse sale. The warehouse itself is located at the courtyard of Pacific Towers in Petaling Jaya for easy access.
On top of that, the Big Bike Warehouse Volume 3 features more than just motorcycles as one can also enjoy a slew of accessories from established brands such as Zeus, HJC, Astone, Hypergear, Ipone and many more. This means one can do more than just get their dream bike, they can also modify it to their heart's content.
Furthermore, specially for the Big Bike Warehouse weekend, one can enjoy a special offer of getting Bike Warrior Roadside Assistance for 2 years for all bikes above 250cc too. This allows for a more hassle-free riding experience as you can rest assured that your bike will always have help when you need it.
What's more, for a limited time only, all participating brands at the Big Bike Warehouse Volume 3 will also be offering model specific year-end deals so if one of those brands mentioned earlier happens to be your favourite, don't miss out and grab these deals while you still can.
What else can we say besides, head on over to the Pacific Towers in Petaling Jaya this 9 to 11 December 2022 from 10 a.m. to 6 p.m. and get the bike of your dreams at a price you just can't beat at the Big Bike Warehouse Volume 3 sale. After all, where else can you have so many amazing bikes under one roof?