Automotive
Published on December 2nd, 2022 | by Subhash Nair
0
Porsche 718 Cayman GT4 RS Now In Malaysia RM1.55M
The ultimate performance-oriented variant of the Cayman debuted at the Porsche Centre JB.
At yesterday's official opening of the Porsche Centre Johor Bahru, Sime Darby Auto Performance launched the most performance-oriented version of the 718 family – the Porsche 718 Cayman GT4 RS.
There's special significance to this model. It's the first time the 'RS' moniker has been used on a Porsche model other than the 911. It's also powered by the same 4.0L naturally aspirated flat six as the 911 GT3. Compared to the 718 Cayman GT4, this version of the car has an additional 80PS and 20Nm of torque and shaved 23 seconds off its Nürburgring laptime. It goes from 0-100km/h in just 3.4 seconds and has a top speed of 315km/h.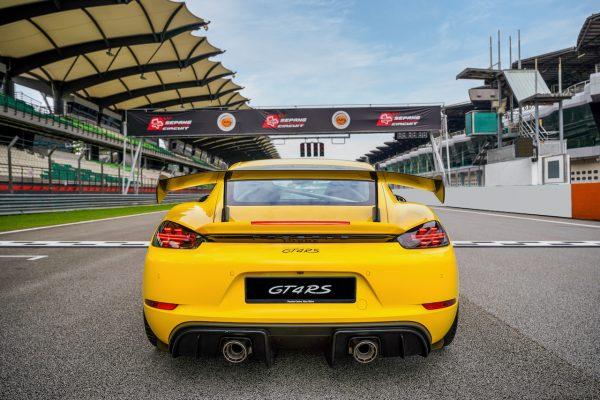 Here's the press release with information.
PRESS RELEASE
The new flagship model in the 718 family, the Porsche 718 Cayman GT4 RS made its national premiere at the official opening of Porsche Centre Johor Bahru, in conjunction with the launch of the new dealership. The 718 Cayman GT4 RS is an uncompromising driver's car designed to thrill with its lightweight construction, extremely agile chassis set -up, sophisticated aerodynamics, and stratospheric soundtrack.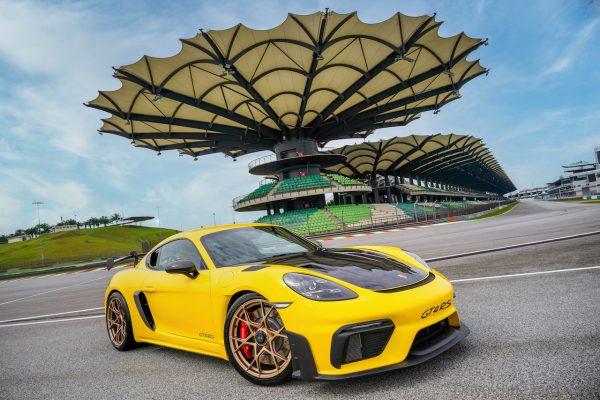 The naturally aspirated flat-six engine, revving as high as 9,000 pm, forms the centrepiece of a sports car that has been designed for maximum driving pleasure. Among the striking features of the new, top-of-the-range 718 are the process air intakes behind the driver and passenger windows. The new air intakes improve airflow and create a thrilling intake noise right next to the occupants' ears.
In typical RS style, lightweight construction is a defining element of the 718 Cayman GT4 RS. The two-seater weighs only 1,415 kilograms with a full fuel tank. The new fixed rear wing, its swan-neck attachment and aluminium wing supports are a distinctive element of the exterior design. Together with other aerodynamic upgrades, the GT4 RS generates approximately 25 per cent more downforce than the GT4 when in Performance mode.
Whether it is being driven on narrow, winding roads or closed racetracks, the 718 Cayman GT4 RS is the king of the compact mid-engine range. Prices start from RM 1,550,000, interested customers are encouraged to visit our nearest Porsche Centre to find out more about the 718 Cayman GT4 RS, or visit https://dealer.porsche.com/my/malaysia/en-GB/718-cayman-gt4-rs for more information.