Automotive
Published on January 12th, 2023 | by Subhash Nair
0
MPV Catches Fire At A Petronas Station In Kajang
A car fire at a Petronas Station in Kajang occurred today.
Car fires are extremely scary and dangerous, but the peril and fear doubles when the car fire happens at a petrol station. That's what occurred this morning when a vehicle caught fire at a petrol station in Kajang, Selangor. Thankfully, no one seriously injured or killed in the incident.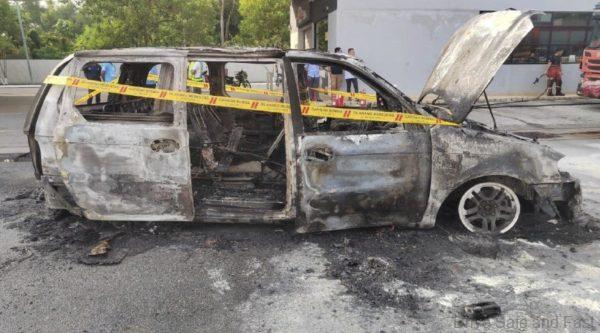 The New Straits Times reports that the driver managed to escape unscathed from her vehicle when it caught fire, but the cause of the fire has not been ascertained. The incident occurred at 8am at a Petronas Station along the Kajang Dispersal Link Expressway, commonly known as 'SILK'. The Petronas Station is located close to Hospital Serdang and Tenaga Nasional University (UNITEN).
"Operations commander Sharel Mohamad informed that the fire that took place at the Petronas at the Kajang Dispersal Link Expressway involved an MPV. The car was 90 per cent destroyed and the driver, who was alone during the fire, managed to escape before the arrival of the rescue team," said a Selangor Fire and Rescue Department spokesman. The Fire Department received the distress call at 8.03am.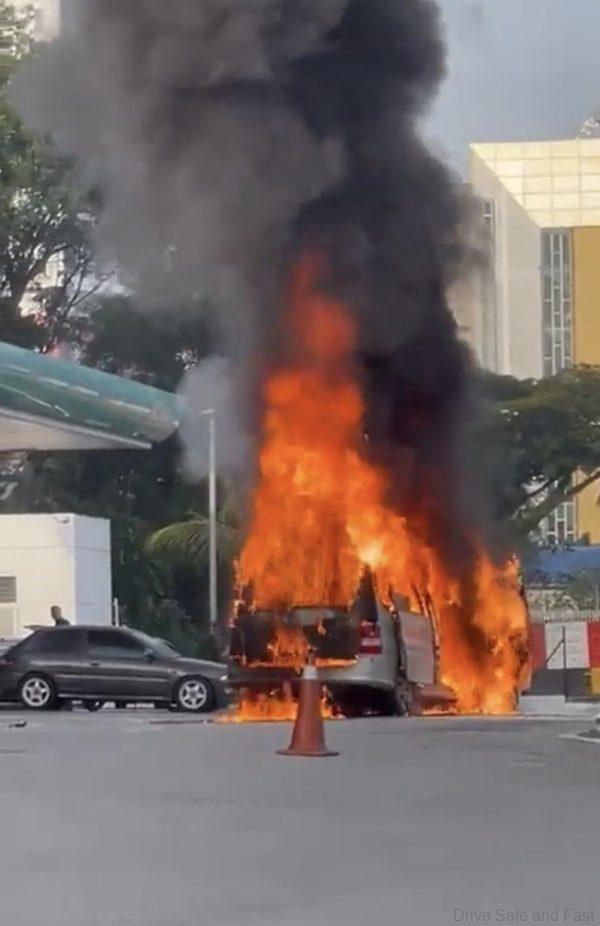 The vehicle involved looks like a first-generation Kia Carnival that was sold in Malaysia and later rebadged as the Naza Ria. This multi purpose vehicle (MPV) is powered by a 2.5-litre V6 petrol engine with 24 valves and quad cams. It was designed by Rover and built by Kia under license. The first generation Kia Carnival/Naza Ria was sold in Malaysia throughout the 2000s. Even the newest units of this model are now about 15 years old.
As you can see from the video above, the vehicle fire looks rather intense. At one point, the glass on the rear hatch explodes. At a petrol station, the risk of the fire spreading quickly and causing much more serious damage is quite high. Despite the obvious risk, there are still plenty of onlookers. There's even a grey Proton Satria parked not too far from the flame. Two vehicles even enter the petrol station despite the towering inferno. These are examples of things NOT to do.
This is also a reminder to keep a fire extinguisher in your vehicle if it's a little older. Also be sure to regularly service your vehicle and have your mechanic check the car for fuel leaks or any degrading hoses or lines that need to be replaced. Exposed wiring from added accessories or an aging vehicle can also be the cause of vehicle fires.