Automotive
Published on April 28th, 2023 | by Subhash Nair
0
Mahindra Shows Off Five Concept EVs Using The INGLO Platform
Mahindra & Mahindra has launched its new INGLO EV platform and five e-SUVs under two new EV brands to showcase its vision for the future of electric mobility. The Indian automotive giant has a vision of leading the electric mobility revolution in India, delivering authentic electric SUVs with cutting-edge technology, through the three strategic pillars of Brand, Design and Technology. The INGLO platform encapsulates progressive battery technology, platform architecture, brain power and human-machine interface, offering class-leading safety standards, exhilarating performance, excellent range and efficiency, exemplary driving dynamics, versatility, and intelligent Human Machine Interfaces. The purpose-built platform will pack intuitive, intelligent and immersive innovations that will serve as the backbone of the Mahindra EV architecture and is the heart of its ultimate human-machine interface. The INGLO platform will underpin all Mahindra's EVs going forward.
The company unveiled two new brands, created specifically to house the company's EV portfolio – Iconic brand XUV with the Twin Peak logo in Copper and the all-new electric-only brand called BE. The iconic brand XUV will host a range of products that build upon the Mahindra legacy while embracing the future. The bold, evocative and exhilarating BE brand, with its audacious new design language, will target customers who want to define their life's journey their own way while making a difference. It's worth noting that this company now owns the legendary Pininfarina design studio. The manifestation of these two brands has been showcased via five e-SUVs: the XUV.e8, XUV.e9, BE.05, BE.07, and BE.09, the first four of these are to be launched between 2024 and 2026.
The new Heartcore design philosophy blends unmissable presence, inner strength, and attitude, and all-new e-SUVs will create an electrifying presence, both on the road and off it, while retaining the Mahindra core SUV heritage. INGLO offers endless adaptability, an optimised architecture that gives rise to modular and scalable design and allows Mahindra to create electric SUVs that fit consumer desires and lifestyles. The INGLO platform also offers significant reduction in underbody weight, leading to one of the lightest skateboards.
The cutting-edge INGLO platform offers a multi-sensorial driving experience with a futuristic, augmented reality-enabled heads-up display, edge-to-edge screen, 5G network capability and Over-The-Air updates that will keep the EVs as good as new. By 2027, Mahindra expects that a quarter of the SUVs they sell will be electric, and the company aims to not only electrify the roads but also the hearts and minds of SUV aficionados in India and around the world.
Mahindra has taken a giant leap in battery science with safe and robust LFP chemistry, and its electric vehicles will follow a common battery pack design with lean modules and standardised cell-to-pack technology using two different cutting-edge cell architectures – Blade and Prismatic. Offered with options ranging from 60-80 kWhr battery capacity, protected for an incredible 175 kW fast-charge, and charging up to 80% in less than 30 minutes. The intelligent and efficient Battery Management System with high precision, enhanced robustness and functional safety will deliver improved range, longevity and safety. The compact all-in-one electric engine with motor-inverter-transmission integrated into a single unit forms the powertrain, offered with both rear-wheel and all-wheel drive, developing a remarkable 170-210 kW and a whopping 250-290 kW respectively. Standstill to 100 kmph is promised in between 5 and 6 seconds.
XUV.e8
Dimensions: L x W x H: 4740 x 1900 x 1760 mm | Wheelbase 2762 mm
A combination of sheer performance, best-in-class technology and safety. The intelligent all-wheel drive system along with sophisticated cabin, offers supreme ride comfort both on and off the road.
XUV.e9
Dimensions: L x W x H: 4790 x 1905 x 1690 mm | Wheelbase 2775 mm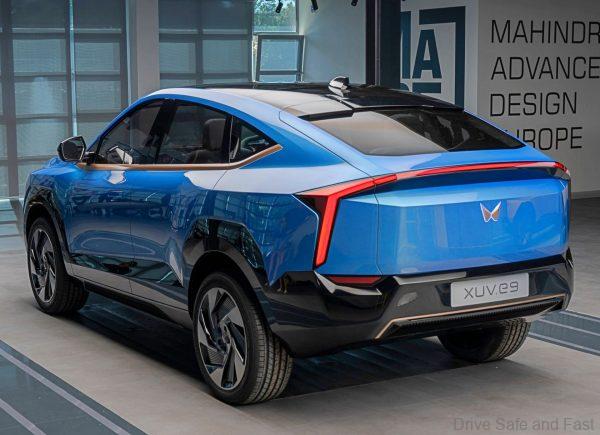 A fearlessly modern design with the strengths of an authentic SUV combined with the aerodynamic silhouette of a coupe. Intelligent interiors, with a view to indulge through its panoramic sky roof that warrants every bit of attention it demands.
BE.05
Dimensions: L x W x H: 4370 x 1900 x 1635 mm | Wheelbase 2775 mm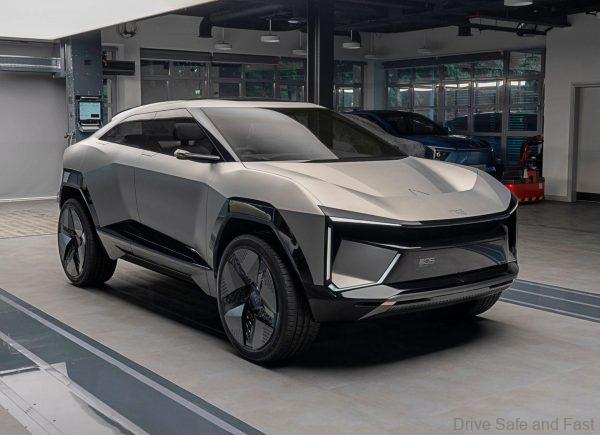 A true standout, with a taste for life to explore the impossible. It is a Sports Electric Vehicle (SEV) in the truest sense, making it a category in itself. A racing inspired bold design complemented seamlessly by multi-sensory experiences.
BE.07
Dimensions: L x W x H: 4565 x 1900 x 1660 mm | Wheelbase 2775 mm
A family space, to explore the places you love with the people you love. Grab your cam, it's time to make some memories. Designed to offer a first-class experience, with versatility, configurable profiles and curated multi-sensory experiences
BE.09
A head turning SUV grand tourer with a chiseled design, dynamic roof and solid stance. Allowing four passengers a first-class experience.