Automotive
Published on April 7th, 2023 | by Subhash Nair
0
Mercedes-Benz Card Arrives In Malaysia In Partnership With Maybank
The all-metal Mercedes-Benz Card arrives in Malaysia with Maybank backing.
Mercedes-Benz Malaysia today launched the first ever Mercedes-Benz card at the launch of the all-new GLC at Plaza Arkadia, Desa ParkCity. The Mercedes-Benz card is aimed at giving Mercedes-Benz customers loads of exclusive benefits, but it is open to anyone who would like to apply for one as long as you can prove an annual income of at least RM100,000. The card was made possible by a partnership with Maybank.
This all-metal card can be used to unlock Benz and lifestyle related benefits. The card is primarily black with the Mercedes-Benz three-pointed star decorating the front against a backdrop of a repeating three-pointed star pattern.
Mercedes-Benz Related Discounts
Cardholders get a 10% discount on Mercedes-Benz parts, as well as official merchandise and accessories. What's more, if you're a Mercedes-Benz customer upgrading to a comprehensive Extended Limited Warranty programme on your vehicle, use you can get up to an 8% discount. You can also get RM200 off on MobilityPlus, Mercedes-Benz Malaysia's replacement car programme. Plus, every RM1 you spend at an authorised Mercedes-Benz Autohaus with this card converts to 10X TreatPoint, which are Maybank's credit card-related loyalty points.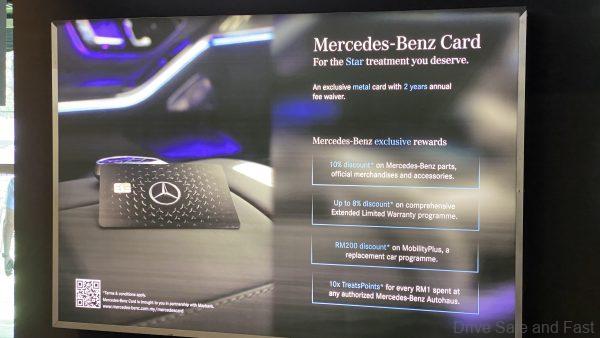 Lifestyle Related Benefits
Other benefits related to the Mercedes-Benz card include 40% off dining at Marriott Bonvoy Hotels in Malaysia, 3% petrol cashback (capped at RM50 per month), complimentary green fees at 100 golf courses worldwide, and complimentary access to Plaza Premium lounges at airports nationwide and worldwide.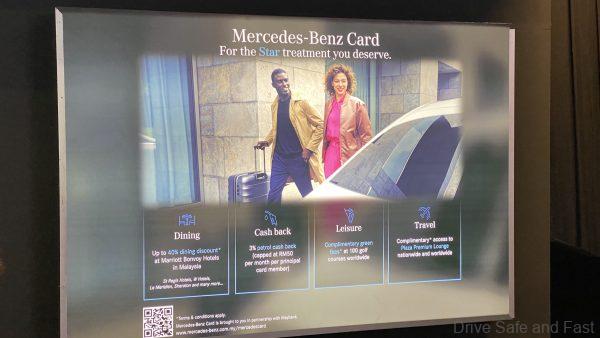 If you're a Mercedes-Benz customer, the Mercedes-Benz Card is quite a no-brainer for the first two years, as the annual fee is waived for this period. After that, the annual fee is RM800, which is waived if you spend RM80,000 on the card in a year…
The Mercedes-Benz Card was launched in Malaysia ahead of other South East Asian markets but the company is looking at tapping other markets with this product should possibilities arise.