Automotive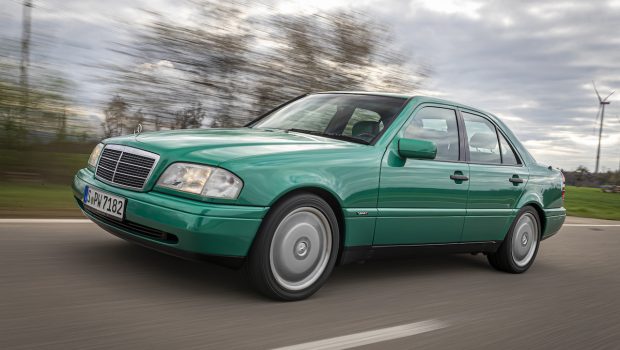 Published on May 8th, 2023 | by Subhash Nair
0
The W202 C-Class Is Now Officially 30 Years Old
It may be hard to believe but the first ever Mercedes-Benz C-Class, the W202, is now 30 years old!
The Mercedes-Benz C-Class today is a household name and has been one of the brand's best selling models. Its roots can be traced back to the 190E (W201) which is fast becoming a collector's item. While the W201 just turned 40 late last year, the W202 today turns 30. The W202 was actually the first model to be referred to as the 'C-Class', making it the first of the Mercedes-Benz vehicles to have a letter BEFORE the digits that indicated its powertrain.
During its production cycle, which lasted from 1993 to 2001, Mercedes-Benz was able to sell 1.9 million models in both sedan and wagon body styles. The W202 C-Class was larger than the W201 and offered new petrol and diesel motors with 4 valves per cylinder for better fuel efficiency. Emissions were also improved as a result of better engine management and lower internal friction.
Another aspect that was improved was safety. The C-Class had better rear and side impact collision protection with a new one-piece side wall, tubular structure and a triple-skinned B-pillar along with massive cross members. Unfortunately this was also when Mercedes-Benz engineers had to start thinking about the environment a bit more. So rather than fitting the car with the most durable materials available, 85% of the W202 was made of recyclable materials. That being said you still see plenty of W202 models still being driven today, so that indicates quality was still high.
The exterior design was modern, clean and evergreen. It still looks modern enough today even 30 years later. Packaging was a major area of improvement on this C-Class. The W201 190E that came before was co-developed with the W124, so had some packaging limitations.
This time around, Mercedes-Benz relocated the fuel tank and re-arranged the engine bay, axles and transmission to create a significantly largely interior and boot space.
Despite being a smaller Benz, the C-Class was still uncompromising in comfort thanks to the dual wishbone front suspension and the independent multi-link rear suspension. What's more, the springs and dampers were revised and the overall footprint of the vehicle was increased.