Automotive
Published on June 16th, 2023 | by Daniel Sherman Fernandez
0
Audi Q8 e-tron Bookings Surge Past 400 Units Before Launch
Could the Q8 e-tron revive Audi's sales in Malaysia
Audi might be a little late to the full electric vehicle (EV) club, but it can be seen clearly that being late is never a bad thing.
First teased for Malaysia back in November 2022, this all electric Audi performance SUV is now on sale in Malaysia with selling prices from RM369,000 to RM379,000.
With the Q8 50 delivering 340PS and a high 664 Nm of torque, it will accelerate from standstill to 100km/h in just 6.0 seconds and deliver a driving range of up to 410 kilometers.
This week this all electric Audi SUV customer deliveries will start and with more than 400 waiting Malaysians, it could easily double to 800 units before Christmas.
Why? Well, many Malaysians like the Audi brand and design language, but without local assembly, brand new Audi's have always been priced higher than its rivals, BMW, Volvo and Mercedes-Benz who have extensive local assembly in Malaysia, which allows them to get high import duty incentives.
Audi in Malaysia has seen a constant decline in year to year sales even with great products as their prices cannot compete with local assembled luxury vehicles.
However, you will still see plenty of Audi S-Line and sporty RS models on our roads as private importers take advantage of this and bring in used 1 to 3 years old Audi's which enjoy much lower import duties.
Now, with full import duty exemptions for ALL electric vehicles, the Audi EV range will give a big boost to its year end Malaysian sales numbers.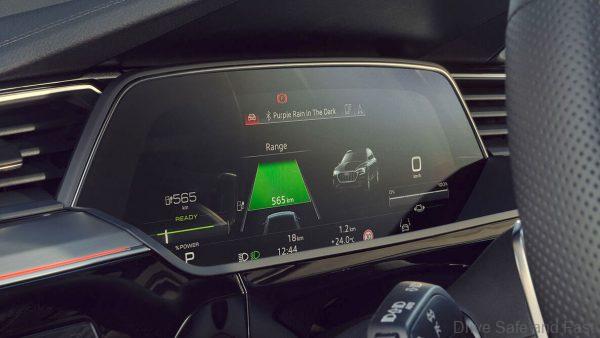 With this brand new SUV, Audi is challenging the latest Mercedes-Benz EQC400 at RM390,000 which is priced very close to the Audi Q8 e-tron quattro at RM379,000.
It also rivals the recently launched BMW iX3 which is priced lower at RM336,000. It however is slightly larger than the just launched and very popular Volvo C40 which has a selling price of RM288,000.
The footprint of this Q8 e-tron is slightly larger than the Volvo C40 but the overall cabin experience is roughly the same.
Physical Attributes
The Audi e-tron Sportback combines the power of a spacious SUV with the elegance of a four-door coupe and the progressive character of an electric car. It is 4,901 millimeters long, 1,935 millimeters wide and 1,616 millimeters high.
Its roof extends flat over the muscular body, dropping down steeply to the rear-in typical coupe style and flowing into the steeply raked D-pillars. The lower edge of the third side window rises towards the rear with a typical Sportback feature.
Cabin Features
The interior of the Audi e-tron Sportback is an elegant lounge featuring a seamless blend of design and technology. With a wheelbase of 2,928 millimeters the Audi e-tron Sportback has ample space for five occupants along with their luggage.
The rear foot-well is virtually level with just a flat step remains in place of the center tunnel. Including the 60-liter stowage compartment underneath the hood, which houses the vehicle tool kit and charging cable, this EV SUV offers a total of 615 liters of luggage capacity. Folding down the rear seat backrests increases the luggage capacity to 1,655 liters.
A generous arc that spans the instrument panel, extending from door to door, harmoniously integrates the cover for the Audi virtual cockpit.
Driving Range
With an estimated 410 kilometers in the Q8 50 and 582 kilometers with the Q8 55, of driving range, plus the fast charging network around Malaysia, this will encourage increased ownership.
Audi e-tron Q8 50 Specifications
Charging from 10% to 80%: 31 minutes
Max power: 340hp
Max torque: 664 with Boost Mode
Top Speed: 200km/h
0-100 km/h: 6.0 secs (with Boost Mode)
Estimated Driving Range: 410 kilometers and 582 kilometers with Q8 55
Selling prices: RM369,000 to RM379,000