Automotive
Published on July 5th, 2023 | by Subhash Nair
0
Hyundai IONIQ 6 Being Teased On Social Media: Malaysian Launch Soon?
The Hyundai IONIQ 6 is being teased on Hyundai Malaysia's FB page and we think we know why…
When it comes to battery electric vehicles, Hyundai have successfully bridged the gap between premium and non-premium. Their IONIQ 5 was a smash hit in Malaysia. It offered retro-inspired looks in a futuristic package. It debuted the company's Electric Global Modular Platform (E-GMP), which boasts more high-tech features than many EVs twice the IONIQ 5's price. It was no surprise to any of us that demand for it has been sky high from the launch date.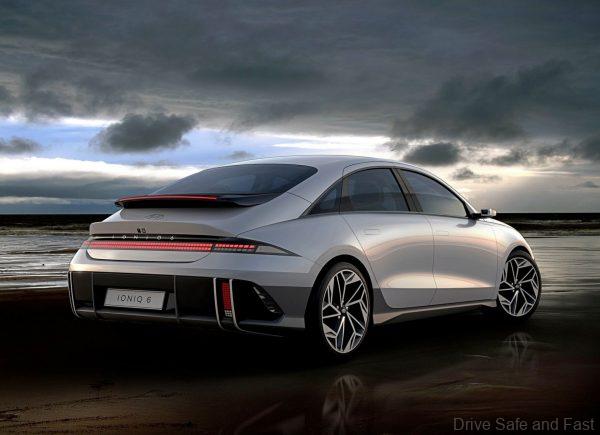 That being said, the IONIQ 5 has been in Malaysia for over a year. Many Hyundai fans are waiting for their next big thing and it looks like that's coming very soon. Last week, Hyundai Malaysia started to tease their next EV launch, and it's quite obviously going to be the IONIQ 6.
The first teaser post came on the 28th of June and it showed off the IONIQ 6's extremely low drag coefficient of 0.21Cd. As a reminder, that figure puts the IONIQ 6 ahead the Porsche Taycan and the Tesla Model 3! In fact, the only vehicle on sale in Malaysia currently that is more aerodynamic than the IONIQ 6 is the Mercedes-Benz EQS.
The next teaser hit upon the IONIQ 6's very impressive range of 614km on a full charge. The teaser mentions driving from JB to Taiping without using a drop of fuel, which is about a 600km journey that would take nearly 7 hours.
The improved aerodynamics as well as tweaks to the inverter, motors and control strategy when switching between single and dual-motor all lead to the huge range improvement over the IONIQ 5's 430km range.
The underlying technology behind the IONIQ 6 is possible due to the E-GMP architecture we mentioned earlier. Thanks to this dedicated platform, Hyundai has managed to pack in features such as Vehicle-to-Load charging and super fast charging thanks to an 800 v architecture. Mind you, these are features missing in some premium EVs on sale in Malaysia today.
Hyundai Malaysia also went out of their way to remind everyone that the IONIQ 6 was last year's World Car Of The Year just a day before posting the IONIQ 6's torque figure of 605Nm. We wonder how many more teasers are coming before the official launch day. More importantly, we wonder how Hyundai Malaysia will price the IONIQ 6 given just how high demand was for the IONIQ 5 the last time around.