Automotive
Published on August 23rd, 2023 | by Subhash Nair
0
Mitsubishi Triton Champion Xperience Coming To Miri This Weekend
Unleash Your Inner Adventurer at the Mitsubishi Triton Champion Xperience in Miri, Sarawak
If you're a thrill-seeker and an automotive enthusiast in Miri, get ready to embark on an unforgettable adventure with the Mitsubishi Triton. Presented by Mitsubishi Motors Malaysia, the Mitsubishi Triton Champion Xperience is set to rock your weekend.
Event Details:
Date: 26-27 August 2023
Time: 9:00 am – 6:00 pm
Location: Parkcity Eastwood, Miri
Admission: FREE
Mitsubishi Motors has a storied history in motorsports, and the technologies and expertise gained from their participation in events like the Asia Cross Country Rally (AXCR) have been seamlessly integrated into the development of their production models, particularly the Triton. This unique fusion of racing technology and everyday practicality is what sets the Triton apart as a superior pickup truck.
Experience the Triton's Power and Versatility
The Triton Champion Xperience isn't just a static showcase – it's an opportunity to truly experience the Triton's prowess firsthand. MMM is proud to demonstrate the Triton's exceptional handling, unwavering toughness, impressive power, and unmatched reliability through an array of activities designed to put the vehicle's capabilities to the test.
Thrilling High-Speed Taxi Ride
Hold on tight as you buckle up for an exhilarating high-speed taxi ride that will have your heart racing and adrenaline pumping. Feel the Triton's raw power as it effortlessly navigates the roads, showcasing its superior handling and performance.
Off-Road Test Drive
For those who crave off-road excitement, the Triton Champion Xperience offers a specially designed off-road test drive. This is your chance to explore the limits of the Mitsubishi Motors Super–Select 4WD II system and the off–road mode. Conquer challenging terrains with confidence as the Triton tackles obstacles and rough paths with ease.
Exclusive Rewards for Early Birds
Are you ready to seize the opportunity? Early birds who register for the test drives on MMM's official site will enjoy a range of exclusive perks, including an eye-catching Champion Xperience T-Shirt, an RM20 Touch 'N Go reload pin, and the chance to win a North Face EXPLORE BARDU II bag through lucky draw prizes.
Special Promotions and Offers
If you're ready to take your Triton experience to the next level, MMM has an irresistible offer for you. Customers who reserve a Triton Athlete or Triton AT Premium pick-up truck prior to 31 August 2023 will be eligible for promotions and a low-interest rate of just 1.77%*. And that's not all – Triton bookings made during the event will also be rewarded with a Stanley lifestyle tumbler, enhancing your everyday adventures.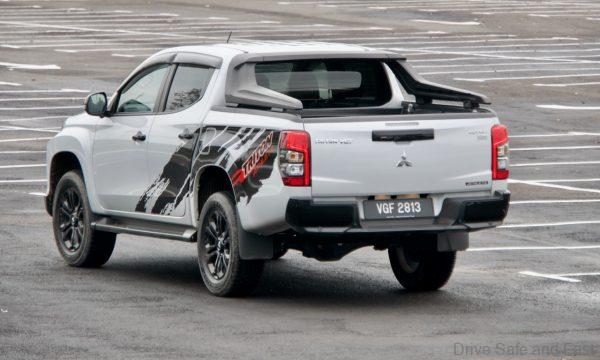 Don't miss out on this golden opportunity to witness the convergence of motorsports excellence and cutting-edge automotive engineering at the Mitsubishi Triton Champion Xperience. Whether you're a die-hard automotive fan, a thrill-seeking adventurer, or someone looking for a pickup truck that can handle both the city streets and the off-road trails, this event has something remarkable in store for you.
Mark your calendars for 26-27 August 2023 and make your way to Parkcity Eastwood, Miri, for a weekend of adrenaline-pumping action, exclusive rewards, and a firsthand experience of the Triton's unmatched capabilities. Admission is free, so bring your friends and family along to share in the excitement. Unleash your inner adventurer and embark on a journey that will redefine your perception of pickup trucks.
For more information and to register for the test drives, visit the official site: https://www.mitsubishi-motors.com.my/triton-mini-axcr/
*Terms and conditions apply.