Automotive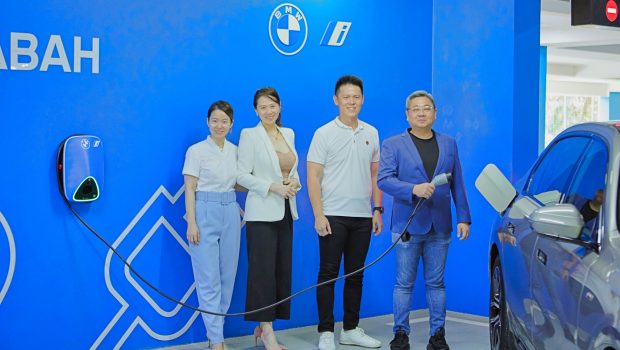 Published on August 15th, 2023 | by Subhash Nair
0
Regas Premium Sabah Unveils State's First Public EV Charging Facility
Sabah has its first public EV charging facility thanks to Regas Premium Sabah.
Regas Premium Sabah, a BMW and BMW Motorrad dealer, has launched the state's inaugural public Electric Vehicle (EV) charging facility. This new charge point can be found in T1 @ Bundusan, a shopping complex in Luyang, Kota Kinabalu. The launch of this EV charging facility is aligned with BMW Group Malaysia's expansive charging infrastructure plans nationwide, this groundbreaking step marks a significant leap toward a more sustainable and eco-friendly future.
Sabah's First Public EV Charging Point
The fact that Sabah is only now getting its first EV charging facility shows just how imbalanced infrastructure development is in Malaysia. What's even more disappointing is the fact that their first public EV charger arrives in 2023 and isn't even a DC Fast Charger. It's a single 11kW AC Charger, which wouldn't look out of place at a private residence. Even Sarawak has a public EV charging facility with 22kW AC (type 2) and a 60kW DC charging available (CCS2 and CHAdeMO).
Collaborative Synergy
In collaboration with JomCharge, a notable player in the EV charging solutions domain, Regas Premium Sabah has established a cutting-edge charging network that is both convenient and accessible. The charging facility boasts two bays capable of 11 kWh AC charging, located at the basement parking lot of T1 @ Bundusan. Positioned at Jalan Bundusan, Taman Cemerlang, this facility embodies the company's commitment to providing sustainable solutions to meet the growing demand for eco-friendly transportation nationwide. The facility is open 24 hours a day to the public, with a standard rate of RM6 per hour.
Vision for Expansion
This landmark achievement marks just the initial phase of Regas Premium Sabah's larger vision to expand the EV charging infrastructure across the region. With a specific focus on locations like Tawau, the company is dedicated to making EV charging accessible in every corner of Sabah. This vision resonates with BMW Group Malaysia's commitment as well, as they have made over 1,000 charging facilities available in their network to date. These efforts collectively set the stage for a greener and more sustainable transportation landscape in Malaysia.