Automotive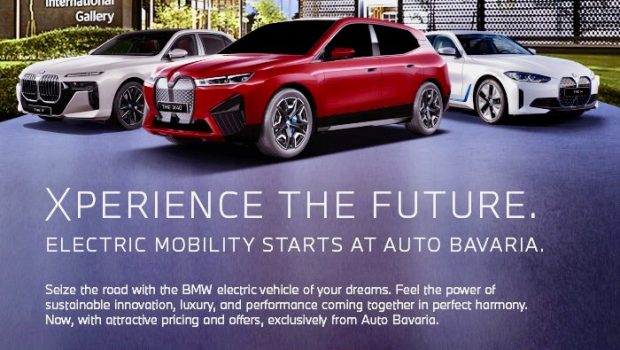 Published on September 7th, 2023 | by Daniel Sherman Fernandez
0
GET An Electrifying Weekend at Auto Bavaria EV Fest
Learn the benefits of BMW electric mobility in the delightful company of Auto Bavaria
Electric Vehicles (EVs) are a very interesting topic. Love them or hate them, none can argue that with the way things are going right now, they will soon be the default form of vehicles on the road. Now, Auto Bavaria is allowing you to own a BMW EV and rewarding you for it as well.
That's right, this weekend from 8 to 10 September 2023, Auto Bavaria EV Fest invites you to The International Gallery at KLGCC Resort, 8-10 September 2023, from 9am to 6pm, so you can drive home your dream BMW EV and feel the power of sustainable innovation, luxury and performance all in one package.
On top of having the chance to own your own BMW EV, Auto Bavaria is giving away exclusive delivery gift worth up to RM10,000 for selected models. Attractive pricing, amazing rebates, and a complimentary BMW Wallbox charger (for selected models) are being offered too.
For even greater peace of mind, Auto Bavaria is also offering an 8-year or 160,000km high voltage battery warranty. You can get all this and more exclusively with Auto Bavaria for this weekend.
If you are in the market for an EV, there is no better time than now to place your order.
Mark your calendar down for a visit to the Auto Bavaria EV Fest this weekend from 8 to 10 September 2023 9 am to 6pm only at The International Gallery at KLGCC Resort.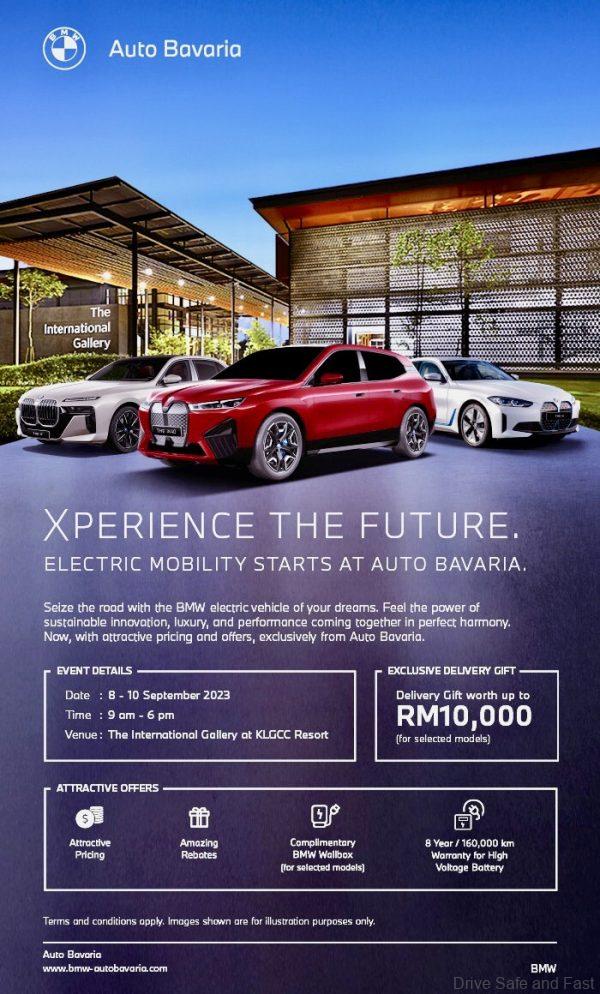 Some of the BMW Electric Vehicles to consider. The iX M60 with a retail pricing (on the road, without insurance) with Extended Warranty and BMW Service & Repair Inclusive is just RM630,800.00 which is about RM78,000 more than the BMW iX xDrive50 Sport which has been selling very well in Malaysia.
Then there is the BMW i4 eDrive35 in two variants, the BMW i4 eDrive35 which has a single electric motor driving the rear wheels delivering 282hp and 400Nm of torque.
It can accelerate from 0-100km/h in 6.0 seconds and has a top speed of 190km/h. The eDrive35 has a 70.2kWh battery with a WLTP-rated driving range of up to 483km on a single charge.
This BMW i4 eDrive35 M Sport rides on 18″ M aerodynamic wheels with 858 M Bicolour mixed tyres and has the very same power and battery specifications. This BMW i4 eDrive35 selling price is just RM255,216.
Meanwhile, did you know that the selling price of this latest Electric MINI is just RM178,241 which is actually about RM35k lower than its launch price a year before.
With the introduction of the MINI Electric savings programme, we are electrifying that legacy. This curated collection of complimentary benefits encapsulates the essence of the iconic MINI heritage.
Efforts by energy and infrastructure providers are improving the accessibility of charging facilities, and enhancing the convenience of electric vehicles in the country. In the same vein, BMW Group Malaysia has also made over 1,000 charging facilities available in its network thus far.