Automotive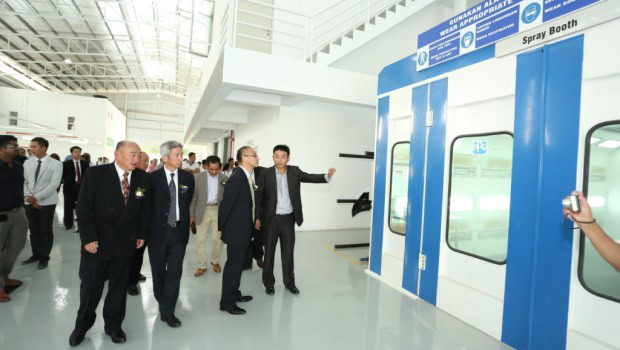 Published on August 5th, 2014 | by Daniel Sherman Fernandez
0
HONDA OPENS ITS FIRST BODY AND PAINT CENTRE IN NEGERI SEMBILAN
Honda Malaysia Sdn. Bhd. has officially opened its 12th Body and Paint Centre in Malaysia and its first in Negeri Sembilan. With this expansion, Ban Lee Heng Motor is now a full-fledged 4S Centre that caters for all services required by Honda car owners in the region.
Honda Malaysia Managing Director and Chief Executive Officer, Mr. Yoichiro Ueno said, "This new Body and Paint Centre fully complies with our new Corporate Identity (CI) policy and we believe that Ban Lee Heng Motor will be able to provide after sales service with high-quality and more comprehensive services to their customers."
This new Body and Paint Centre sits on 4,000 square meters of build up land. RM5 million was invested into the building, land, facilities and equipment for this new Body and Paint Centre which features 18 bays, 1 paint mixing room, 3 parts store rooms and 2 spray booths.
With convenience and customer satisfaction in mind, Ban Lee Heng Motor creates an enjoyable experience by providing a conducive environment for Honda customers. Featuring spacious car delivery bay, comfortable customer lounge and a relaxing reading area, this new Body and Paint Centre puts customer's needs and comfort as its priority.
Equipped with latest equipment and technology, the new Ban Lee Heng Motor Body and Paint Centre uses eco-friendly waterborne paint with advanced formulation, reflecting Honda's commitment to the environment. It also provides an eco-friendly work environment by reducing toxic fumes emission, harsh odours and fire risk.
"In the first half of 2014, sales of Honda cars in this state has increased by 84% compared to the same period in 2013. This newly established Body and Paint Centre is timely to cater to the increasing Honda customers in Negeri Sembilan", Mr. Ueno added.
This strong sales performance is reflective of the overall Honda Malaysia sales that is showing strong growth with more than 37,000 units sold in the first half of 2014, translating to 12% market share. The success of the All-New City which was launched in March has been instrumental in driving this outstanding sales achievement. Honda Malaysia is confident that the good market acceptance of the All-New Jazz which was launched 2 weeks ago will continue its good business momentum.
Targeting to have 90 dealers by 2015, Honda Malaysia has been working closely with its dealers to improve their services to provide a complete package of after-sales service and convenience to customers nationwide. To date, there are a total of 76 Honda Dealers in Malaysia- 6 are 1S Centres and 70 are 3S Centres of which 12 have Body and Paint Centres.
To make an appointment or to find out more about the services and facilities, customers can contact Ban Lee Heng Motor Sdn Bhd Body and Paint Centre at 06 601 7808 (Service) or log on to www.honda.com.my for more information.