Automotive
Published on February 9th, 2015 | by Daniel Sherman Fernandez
0
Mitsubishi Motors Thailand begins exporting all-new Triton
Thailand is the production hub for numerous manufacturers in the region. If anyone is wondering why Thailand is preferred over Malaysia, especially with our slightly more developed infrastructure, the answer is relatively simple. Malaysia, like Thailand and the Phillipines, was once considered by many companies for serious production. It wasn't an issue with quality or space or labour costs, but rather government regulations that kept fluctuating and put manufacturers at risk of heavy losses.
When companies want to set up shop, the models they assemble are not planned on a yearly basis-  in contrast with how our National Automotive Policy is revised year after year, sometimes benefiting manufacturers and sometimes hurting them. No, when it comes to production, models are planned over the next 5 to 7 years. Schedules are formulated, bulk purchases are made, contracts are signed. This is the reality of large scale production, and with constant fluctuation in policy it is difficult for any manufacturer to put trust in Malaysian production on a scale large enough for major exporting.
Add to that the fact that the Thai government is very generous with incentives and receptive to foreign manufacturers opening up factories and production plants- it certainly provides an ideal environment for a car manufacturer. Thai production plants are surprisingly advanced these days, adopting technology that is considered leading edge in Europe or America as well.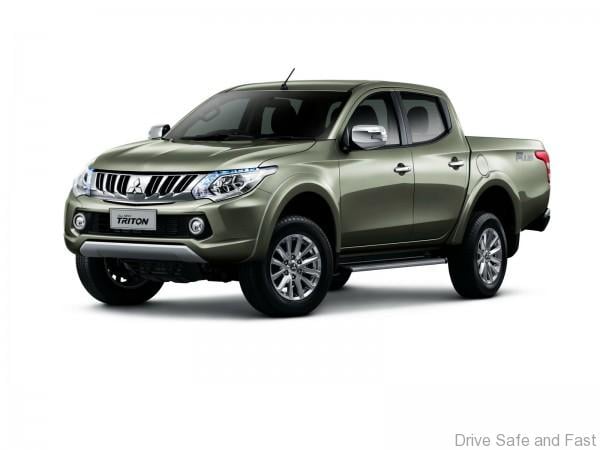 But on with the story. Mitsubishi Motors Thailand has finally got their production up to speed in order to begin exporting the all-new Triton. A commemoration ceremony was held at the Laem Chabang Port near MMTh's Laem Chabang Plant with Thailand government officials and other related parties along with Tetsuro Aikawa, MMC President & COO in attendance.
At the ceremony, Mr. Aikawa emphasized the importance of MMTh: "MMTh started exporting pickup trucks in 1991 and has exported over 1.6 million units so far. Thanks to the Thai government's consistent policies on fostering the automobile industry here, we have achieved growth and expansion with Thailand positioned as our pickup truck production and export hub. Moving on we will grow together with the Thai automobile industry" – again, this is an indication that manufacturers require consistency to make any commitment to production.
The all-new Triton has been developed to be the "Ultimate Sport Utility Truck," combining comfortable interior space of a passenger car with the functionality and reliability of a pickup. The all-new Triton went on sale in Thailand in November 2014. MMC plans to roll out the all-new Triton starting in the Philippines, then sequentially in ASEAN, Oceania, the Middle East, Europe, Africa, and Latin America, eventually exporting to some 150 countries.
Mitsubishi Motors Thailand (MMTh) Outline
Established:

January 1987

Headquarters:

Klongluang, Pathumthani Province

Laem Chabang Plant

Sriracha, Chonburi Province

Representative:

Morikazu Chokki, President & CEO

Capitalization:

7 billion THB

Employees:

Approximately 7,600

Models Produced

Factory No.1: Lancer EX, Pajero Sport (Montero Sport/Nativa)

Factory No. 2: Triton (L200), Pajero Sport (Montero Sport/Nativa)

Factory No.3: Mirage (Space Star), Attrage
MMTh Production / Sales / Exports

(Units)

FY2011

FY2012

FY2013

Production

(Pickup trucks)

221,450

147,542

393,910

185,670

339,319

143,947

Sales

(Pickup trucks)

73,949

47,319

141,921

59,491

85,199

35,749

Exports

(Pickup trucks)

146,247

98,952

229,689

120,770

250,693

107,386