Automotive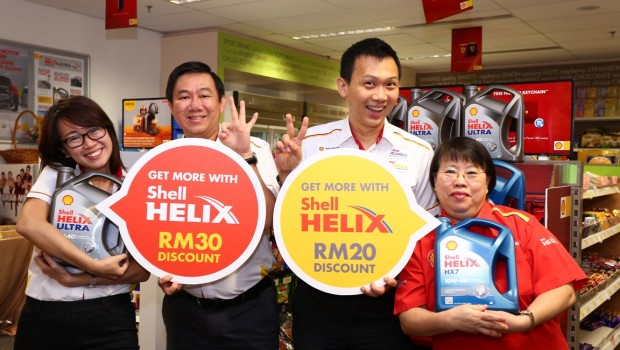 Published on July 10th, 2015 | by Subhash Nair
0
Shell Offers Discounts on Motor Oil Throughout July 2015
During the coming "Balik Kampung" season, Shell is offering all Malaysian car lovers the opportunity to enjoy the superior cleansing features of its Shell Helix range of synthetic motor oils for cars. Shell is extending this opportunity to more Malaysian car drivers following its recent achievement of providing the ultimate engine rejuvenation experience for 500 cars at its recent Shell #LoveMyRide Festival. This achievement also earned Shell an entry into the Malaysia Book of Records.
"We received very positive customer feedback from those who tried our revolutionary Shell Helix Ultra with PurePlus Technology during the Shell #LoveMyRide Festival in June. Based on the feedback, we wanted to extend this opportunity for more Malaysian drivers to experience what a motor oil made from natural gas could do for a car engine. It cleanses your engine from the inside out. There is no better time to do it than in preparation for a safe drive back home this coming festive season," said Mr Leslie Ng, Shell Lubricants General Manager – Malaysia and Singapore.
Shell Helix's consumer promotion is offering instant cash rebates, inclusive of GST. Drivers will enjoy an RM30 discount with every purchase of Shell Helix Ultra with PurePlus Technology fully synthetic motor oil, and RM20 discount for Shell Helix HX 7 synthetic technology motor oil. The special cash discount promotion is valid until the end of July 2015. Drivers can enjoy the promotion at participating Shell petrol stations, workshops and spare part shops nationwide whilst stocks last.
Shell PurePlus Technology is a revolutionary gas-to-liquid (GTL) process, developed over 40 years of research, which converts natural gas into a crystal-clear base oil with virtually none of the impurities found in crude oil. The base oil is produced at the Pearl GTL plant in Qatar, a partnership between Shell and Qatar Petroleum, and the world's largest source of GTL products today.
The Shell Helix Ultra range is Shell's most advanced motor oil and the first ever motor oil made from natural gas. It delivers higher levels of cleansing and wear protection, hence, no other motor oil cleans your engine better[1]. It works hard to protect the engine and deliver great performance even on demanding drives.
Shell Helix Ultra with PurePlus Technology has received the seal of approval from some of the world's most respected car manufacturers including Ferrari, Maserati, Mercedes, VW, Ford, Honda, GM, Chrysler, Hyundai and others. This year, Shell has embarked on an engineering partnership with BMW Motorsport. Shell scientists and BMW Engineers will work together to further develop cutting edge motor oil technology for race cars which will ultimately benefit everyday drivers.
For more information on the latest Shell Helix products, please go to www.shell.com.my/helixpromo .