Automotive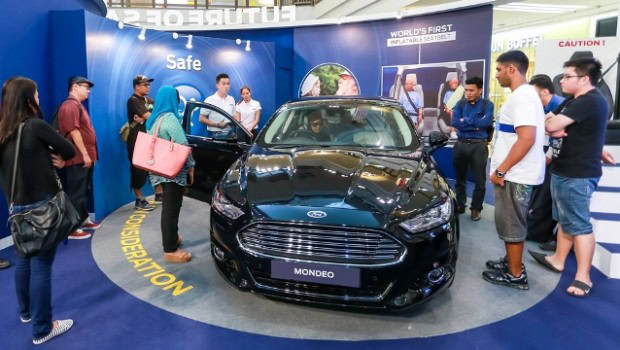 Published on August 7th, 2015 | by Subhash Nair
0
Discover the Future of Safety with Ford
Ford is bringing its 'Future of Safety with Ford' tour to Malaysia to promote greater safety awareness, with tips for drivers and a showcase of safety and driver assistance technologies that can aid drivers in challenging traffic conditions.
Aimed at both vehicle drivers and passengers, the 'Future of Safety with Ford' tour will be showcased at 1 Utama Shopping Centre, Petaling Jaya on Thursday and Friday, August 6 and 7 from 10am-8pm. Open to the public with free admission, the Safety Tour features Ford experts sharing advice on a range of vehicle and driver safety topics, with child safety a particular focus.
The Tour is comprised of 40-minute safety briefings that commence every half-hour, and progress through a series of exhibits and interactive displays that help showcase Ford's innovative safety technologies – for both now, and the future.
For parents, the importance of fitting a child seat in their vehicles is highlighted, including tips for choosing the right child seat, purchasing new rather than used, and ensuring that all belts and adjustments are as tight as possible to minimise movement in the case of an accident.
For expecting parents, safe driving tips during pregnancy are also being shared, such as the importance of wearing the seatbelt correctly by positioning it below the abdomen, across the hips.
Visitors can then apply these tips for themselves, by trying on specially designed suits that Ford engineers use in developing vehicles to address the needs of drivers with specific mobility issues, including the Empathy Belly, which helps to simulate the restricted movement that can be experienced during pregnancy, and the Third Age Suit, with weights, braces, glasses and ear muffs that simulate the effects age can have on the senses.
At the tour, all participants will also be invited to make their own personal safe driving pledge – recognising their individual responsibility to help keep roads safe. They can take the pledge one step further by signing up for one of Ford's free, half-day Driving Skills For Life (DSFL) workshops held throughout the year. DSFL training includes both classroom and hands-on driving sessions, and is aimed at educating drivers on practical skills for driving safely, helping to reduce the number of fatalities and injuries associated with traffic accidents.
Visitors will enjoy hands-on demonstrations of Ford SYNC 2, which allows drivers to stay connected while keeping their hands on the wheel and eyes on the road, and the auto industry's first-ever production inflatable seatbelts, designed to enhance protection for rear-seat occupants.
Through fun, interactive simulations and multimedia, participants will also learn how advanced features and technologies can assist drivers with challenging traffic conditions. Technologies covered include Adaptive Cruise Control, which helps drivers maintain a safe following distance from the vehicle in front of them; and Active City Stop, which is designed to mitigate and, in certain circumstances, avoid low-speed rear-end collisions. Also featured is MyKey, an industry-first technology that allows vehicle owners to program a key for themselves or younger drivers that limits top speed, reduces maximum radio volume, disables the radio until the seatbelts are fastened, and prevents deactivation of driver assistance and safety technologies.
One vision that Ford is helping to make a reality is vehicle-to-vehicle (V2V) and vehicle-to-infrastructure (V2I) communication.