JetSet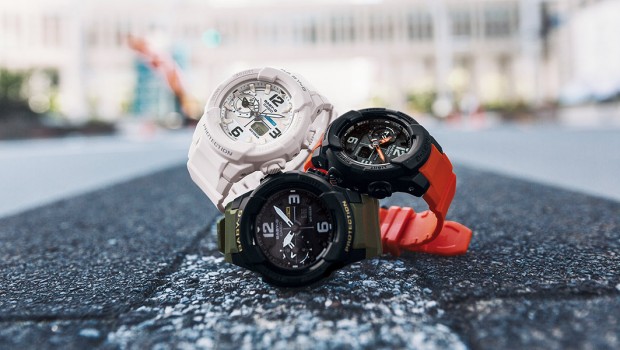 Published on April 12th, 2017 | by Daniel Sherman Fernandez
0
New BABY-G Watches for Women Who Love to Run from Casio
Casio Computer Co., Ltd. announced recently the release of four new additions to the BABY-G line of women's shock-resistant watches, based on the concept of Tough and Cool. The four new BGA-240L models are part of a "for running" series for women who enjoy running, and they feature a design for women who like sporty fashion on a run.
These new models are runner's watches featuring sporty lines and colours that make great accessories for sportswear. All four boast vibrant watch bands formed using two colours of resin, with centre and edge lines rendered in an accent colour. The sporty design is reinforced by the boundary lines between the case and the band as well as the colour ring around the dial. To make the watch easier to read while running, the design includes clean-cut hands, bar index marks, and large digital displays. In addition, the protector pieces on the back of the bands provide a comfortable fit on the wrist.
The BGA-240L models come with useful stopwatch features. The lap time function measures the time used to complete each segment of a run, such as every 1 km or 5 km, while the split time function measures the total elapsed time from the start to any specified point during the run. Up to 60 captured times can be stored in the stopwatch memory. Women who love to run will find these watches not only fashionable, but also extremely useful.
The new models are wonderful for active women who like to add sporty accessories to their look. They are also great for women dedicated to serious running, whether seeking to improve their individual best times or run a marathon.
| | |
| --- | --- |
| | |
| | |
| | 1/100 second (lap times of up to 1 hour, split times of up to 10 hours) / 1 second (lap times of 1 hour or more, split times of 10 hours or more); measuring capacity: 99:59'59"; measuring modes: elapsed time, lap times, split times, two finishes, memory capacity: up to 60 records (data number, month/date/day of the week of measurement, lap/split time, and lap/split number) |
| | Measuring unit: 1 second; countdown range: 24 hours; countdown start time setting range: 1 minute to 24 hours; auto-repeat |
| | 3 multi-function alarms (with 1 snooze alarm); hourly time signal |
| | Dual time; daylight saving on/off, full auto-calendar; 12/24-hour format; button operation tone on/off; LED light with afterglow (auto light switch, selectable illumination duration:1.5 seconds or 3 seconds) |
| Accuracy at Normal Temperature | |
| | Approx. 3 years on CR1220 |
| | |
| | |