Watches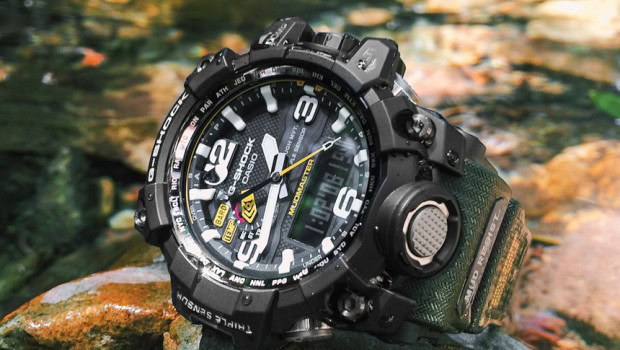 Published on May 22nd, 2017 | by Daniel Sherman Fernandez
0
Casio Mud Master is just awesome
This is the Casio G-Shock GWG 1000-1A3 Mudmaster – a prime contender for the world's toughest, and most practical watch.
MUD RESISTANT STRUCTURE
A cylindrical guard structure is adopted for all the buttons, and the cylindrical button shafts are fitted with gasket linings. This structure not only protects the buttons against intrusion by dust and mud, but it also helps to alleviate shocks. The crown is also protected by a highly airtight screw-lock structure. Gaskets are installed at points where the crown meets the surface of the case to assure superior resistance to dust and mud.
BUTTON GUARD STRUCTURE
Double gaskets are installed inside the cylindrical button casings. This is the secret to preventing incursion by mud.
SCREW-LOCK STRUCTURE
A gasket is also installed in the crown. The use of a screw-lock crown adds further enhanced air tightness.
TRIPLE SENSOR, VER. 3
Built-in sensors that measure directions, atmospheric pressure/temperatures and altitudes quickly and precisely achieve precision performance under the harshest conditions.
VIBRATION RESISTANT STRUCTURE
αGEL® (Alpha Gel) is packed under and around the module to protect the watch from malfunctions or damage due to vibrations. Washers securing the lug screws help prevent vibrations from loosening the band.
*αGEL® is a registered trademark of Taica Corporation.
DOUBLE LED LIGHTS
Two LEDs provide bright illumination for the dial and LCD. This combines with phosphorescence applied to the hour and minute hands and large hour markers to assure clear visibility in dark places.
CARBON FIBER SECOND HAND
Adoption of a carbon material with low specific gravity has made it possible to enlarge the second hand. The resulting agile hand movement and reliable compass needle operation enable indication of direction measurements and various other function results.
SAPPHIRE CRYSTAL
A clear, highly scratch-resistant sapphire crystal is installed to assure excellent visibility.
FRONT LIGHT BUTTON
This first analog MASTER model to employ a front light button makes it easy for wearers to activate the dial-lighting function, which is used most frequently at night.
IMPROVED WEARING COMFORT
Case back protectors introduced at the points where the band connects to the back of the case contribute to wearing comfort by providing a snug fit around the wrist.