Automotive
Published on May 10th, 2017 | by Subhash Nair
0
Indonesians Don't Mind B20 Biodiesel, We Find out Why
In just a few months, fuel stations throughout the country will have a little more biodiesel in them. To most Malaysians, this change will go largely unnoticed. But to the others who rely on that viscous amber liquid on a daily basis, B10 biodiesel will be a dark cloud hanging over them.
Why is that? Why are Malaysians more concerned with a shift from B7 (7% biodiesel, 93% fossil fuel diesel) to B10 (10% biodiesel, 90% fossil fuel diesel) than they were with using biodiesel in the first place? After all, it's the only kind of diesel available commercially.
To give the diesel-using public some reassurance, the Malaysian Palm Oil Board (MPOB) has been pretty hard at work. In March, they took us and other members of the media on a 1000km drive across Borneo with B10 biodiesel. You can read all about it here.
But to further emphasise B10's viability, MPOB took us to meet a number of stakeholders in Indonesia's palm-based biodiesel program. For those not in the know, Indonesia has far exceeded Malaysia when it comes to things like this. Not only are they the larger exporter of crude palm oil, but they're also the world leaders with regards to palm methyl ester derived biodiesel.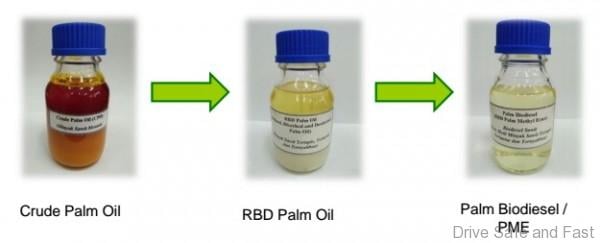 While Malaysia struggles internally to get onboard with B10, Indonesia has already leapt to B20, with plans on using B30 by 2020.
We travelled to Jakarta with representatives MPOB, JPJ, the government, as well as members of the press. Also present with us was the deputy president of the Pan Malaysia Lorry Owners Association and the President of the Association of Malaysian Hauliers – whose members have a significant financial stake in biodiesel.
At our first stop in Jakarta, we met with members of Indonesia's Energy and Fossil Fuel Ministry. There, we were shown just how much economical and ecological sense the switch to higher blends of biodiesel made. A quick look at the numbers says it all.
In 2016 alone, B20 biodiesel has
Generated more than 385,000 jobs
Prevented 4.5 million tonnes of CO2 emissions
Increased the income of palm oil farmers by 25%
Increased the price of CPO by US$251/ton
Reduced reliance on imported fossil fuels by US$1.1 billion
The following day, we took a tour of the Pertamina's fuel mixing station in Jakarta. Here, they carry out in-line blending similar to the system that we have in place.
Just before being poured into the fuel tankers, fossil fuel-derived diesel is blended with palm methyl ester biodiesel at a ratio of 80% diesel to 20% biodiesel. This liquid is mixed thoroughly by forcing it through narrow channels and then sent to the tanker truck.
Before our tour though, we sat down with Mr Abdul Rochim, the Secretary of Industry Development of GAIKINDO. His presentation was an enlightening one.
We learnt that there were 3 major concerns people had with the use of biodiesel. The first being that it might cause engine parts to deteriorate more quickly. The second was that precipitation formed would clog fuel lines. Finally, people were worried about that biodiesel's ability to clean sludge off fuel tanks would lead to fuel filters being clogged often. Indeed, these are valid concerns. So Gaikindo set out to see what they could do about it.
To test if engine parts do wear out with Palm oil-derived biodiesel, Gaikindo conducted a test at the Denso laboratory in Japan which was witnessed by members of the Indonesian government. This test would put an engine through 750 hours of simulated wear and tear with B20 biodiesel. The results were pretty clear. No deposits or irregular deterioration was detected on the injector, pump, or commonrail. The higher oxidation stability of palm oil-based biodiesel was a key factor in this.
Still, for long term use, a chrome-lined fuel tank and insulated fuel piping would certainly put truck owners' minds at ease.

Regarding the precipitate material, Gaikindo took several samples and ran some tests. It was found that for B20, as long as the mono glycerin content is kept below 0.6%, in our tropical climate, precipitation would not be a major issue.
The clogged fuel filters though, that was an ongoing issue. However, when we met with members of the Indonesia Trucking Association, they were pretty laid back about this. According to them, the filters do indeed clog more frequently. But all they had to do was train their staff to periodically clean the filters, which costs close to nothing.
It is also important to note that this practice only became noticeable when the country switched to B20 biodiesel. At B10 and even B15 levels, they operated their fleets normally. Some fleet operators here had resorted to installing a secondary fuel filter as a precautionary measure. Given that regular diesel with 0% biodiesel content is still sold side by side with the B20 blend, it's pretty clear that most stakeholders have made their choice of sticking to biodiesel.
And why is that? Well, our takeaway from the Jakarta trip was that most Indonesians are patriotic and don't see the government as a threat. But this is openness to change isn't abused by the government either. They crunched the numbers, ran the tests and gained the public's confidence. More than anything, they gave themselves long-term goals.
The Indonesian government's plans for biodiesel stretches well into the middle of the century. They have to deal with a population 10 times the size of ours, with a dangerously unhealthy appetite for fossil fuels.
Malaysians can be a little too proud at times, but in this case, we have to take a cue from our neighbours and start taking the topic of biodiesel a lot more seriously for the environment and our economy.