Automotive
Published on October 24th, 2017 | by Subhash Nair
0
Only 3 Cars Really Deserve EEV Status and Incentives
Before I joined this industry, I was a bright-eyed, quasi environmentalist who wanted to buy an electric vehicle as my first car. It was 2013, and I thought that the decade would be defined by how the world reacted to climate change. Of course, it turned out that this decade is being defined by how the world reacts to tweets from President Trump.
But there are still plenty of people who are genuinely concerned about the environment and 4 years later and electric vehicles are still unattainable and not very practical.
I think it's disgraceful how MAI and the industry in general is treating the whole 'EEV' incentive scheme. Just look at the cars being granted EEV status. A sizeable chunk of them are premium, mid-to-full spec vehicles from European makes. These are going to a small chunk of the population. And those cars aren't exactly 'efficiency first'.
Yes, there will be those who use their cars with utmost discipline. But every single locally assembled Plug-in Hybrid or EEV sold by these European brands comes with enough torque and power to tear your face off. Most of them will outperform sports cars from the '90s. These are cars with performance as a primary concern. These are NOT the cars that are going to save the planet.
And what is MAI doing giving these vehicles huge tax breaks? These are, without a doubt, luxury goods. Yes, any privately owned car is a luxury good, but when you're talking RM350,000 for a leather-wrapped, 700Nm of torque, yatch-on-wheels, you're talking LUXURY in all caps. Tax these things. Tax the rich. Most of that money is flowing out of the country whenever a purchase is made. Of course, in exchange locals have access to a few low-skilled jobs, fewer mid-level jobs and a handful of high-paying careers, but this isn't enough of a reason to not tax luxury goods.
In fact, there are only three locally-assembled hybrid/plug-in hybrid vehicles that are doing what's right. These three are the only ones that have the power to give Malaysian car buyers an environmentally-friendly alternative.
They are the Hyundai Ioniq, the Honda Jazz Sport Hybrid and Honda City Sport Hybrid. The Ioniq is great for middle income families, but what really hits the mark are the Hondas because they're priced below RM100,000 despite being extremely expensive to make. The EEV incentive here is being used to subsidise the actual cost of the eco-friendly technology.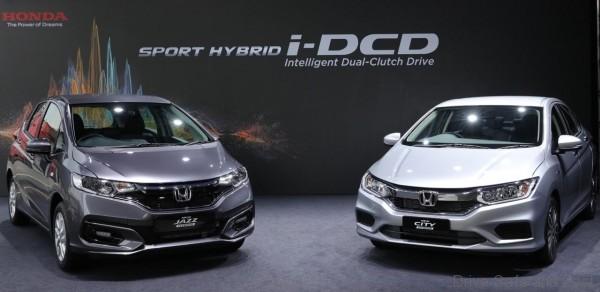 And if you look at the way Honda Malaysia is packaging the trim levels, they're putting the choice back in their customer's hands: you can either pay extra for some extra features on the conventional petrol variant, or lose those features for an environmentally-friendly hybrid powertrain. Making eco-friendly choices cannot be a dollars and cents decision. Malaysians need to make small sacrifices if they want to take environmental concerns seriously.
If my credit rating wasn't in the toilet and my salary allowed me to breathe, these would have been pretty good options for a new car. I think most Malaysians feel the same way, and I think Honda Malaysia chose our country as the first outside of Japan to receive this technology for the same reason.