Automotive
Published on December 1st, 2017 | by Subhash Nair
0
BMW i8 Roadster and Updated Coupe Models Revealed
The sports car of the future – now available in two body variants. New BMW i8 Roadster and new BMW i8 Coupe are under starter's orders. Both plug-in hybrid models feature further developed BMW eDrive technology, enabling longer range and more time in pure-electric mode. World premiere of the BMW i8 Roadster at the Los Angeles Auto Show in December 2017, market launch from May 2018.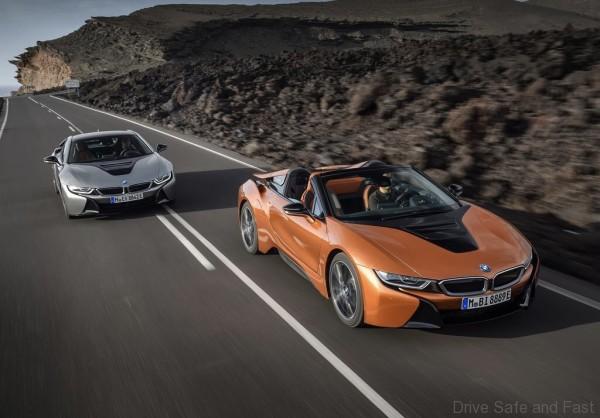 New BMW i8 Roadster represents an innovative expression of freedom: Open-top motoring in an uncompromisingly sporty two-seater, pressing the eDrive button enables virtually silent and locally emission-free driving at up to 120 km/h. Emotionally powerful exterior design with an elegantly dynamic, stretched silhouette; visually lower centre of gravity.
Unique LifeDrive vehicle architecture and BMW i form language carried over into a captivating roadster concept. Model-specific body strengthening elements and gullwing doors feature the signature lightweight construction of BMW i models; windscreen frame also made from carbon-fibre-reinforced plastic (CFRP). Inherent weight penalty of the new BMW i8 Roadster over the new BMW i8 Coupe limited to approximately 60 kilograms.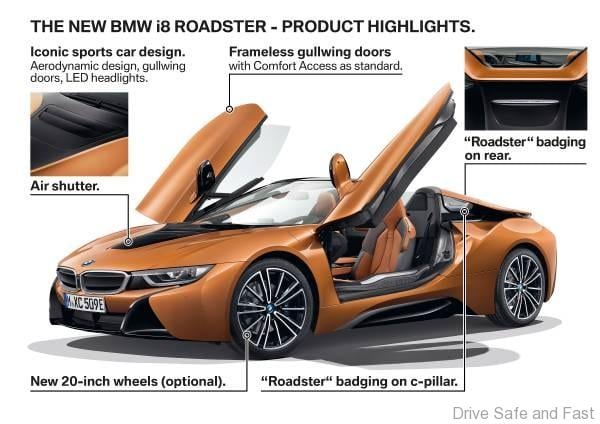 High-quality soft-top covers a large area and has a unique mechanism. All-electric roof opens and closes very quietly – at the touch of a button – in 15 seconds and while travelling at up to 50 km/h. Soft-top stows away in a space-saving perpendicular position, creating around 100 litres of additional storage space behind the seats.
Plug-in hybrid drive system with rigorously optimised BMW eDrive technology. Cell capacity of the lithium-ion high-voltage battery up from 20 to 34 Ah, gross energy capacity up from 7.1 to 11.6 kWh. Electric motor with max. output raised by 12 hp to 143 hp.
Enhanced dynamics and markedly increased scope for locally emission-free driving. Driving with the electric motor alone is possible at up to 105 km/h (previously 70 km/h). Pressing the eDrive button pushes the pure-electric driving threshold up to 120 km/h. Electric range: 53 kilometres (BMW i8 Roadster), 55 kilometres (BMW i8 Coupe).