Automotive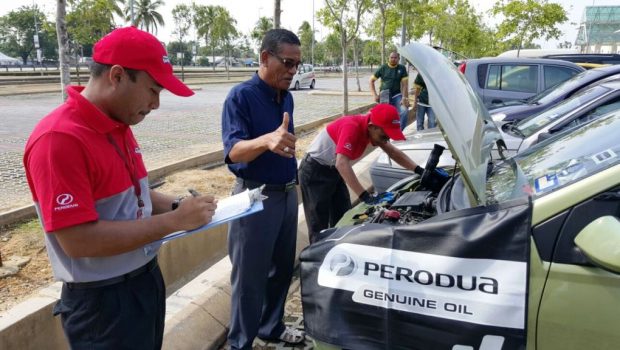 Published on December 15th, 2017 | by Amirul Mukminin
0
Perodua Tweckbot Vehicle Inspection Service Makes a Comeback for Christmas
As the New Year approaches, Perodua is offering a free 50-point check as part of its Tweckbot programme to ensure that holiday-goers' Perodua vehicles are in the best possible condition for long journeys.
The Perodua Tweckbot is a mobile vehicle service team which inspects Perodua vehicles at selected locations during festive seasons.
This is the fourth Perodua Tweckbot programme held this year, with close to 5,000 vehicles checked since the programme began in 2011.
The team will be stationed at the Giant Hypermarket in Kota Damansara this weekend (15-17 December, 10am-5pm), to provide a free 50-point safety check to all Perodua vehicles this festive season and school holidays.
"The Perodua Tweckbot represents our commitment to customers in providing them with the very best in terms of products and services. It is also one of our Road Safety Campaign initiatives," Perodua President and Chief Executive Officer Datuk (Dr) Aminar Rashid Salleh said.
"At Perodua, You Matter Most, and we want to ensure that during this festive period and school holidays, your Perodua vehicles are in the best possible shape for the long journeys you and your loved ones may take," he added.
The 50-point inspection comprises engine, transmission, coolant (coolant level, fan and temperature), brake (fluid and pad wear), power steering, clutch, tyre, suspension and electrical (battery, lights and water) checks, with each inspection taking 10-15 minutes.
Additionally, a 20% discount on parts and accessories will be given to all vehicles that return to Perodua service branches and dealers.
The Perodua Tweckbot started as a Twitter-based service (Twitter + check + robot) offering free inspections at specified times and locations. Tweckbot gradually expanded into other mediums such as Facebook and traditional media to reach out to more Perodua owners.
"We hope our customers will take advantage of the Tweckbot service to ensure their vehicles' safety and roadworthiness. We would like to wish a very Merry Christmas to all who celebrate, happy holidays and a Happy New Year," said Datuk (Dr) Aminar.