Cars
Published on December 4th, 2017 | by Subhash Nair
0
Renault Koleos 4WD Review: French Design Meets Japanese Reliability
In September 2016, TC Euro Cars released the Renault Koleos in its original 2WD format. It gave the market a European SUV alternative that came with proven, Nissan powertrain components. This combination is what made the Fluence a success, but with the Koleos, the fact that it was imported made it a little difficult to price competitively.
So what they've done for 2017 is up what they can offer, with a new Koleos 4WD model. The added equipment means it's a little more expensive than before, but there are still plenty of aspects of the original variant that are still here, and that's a good thing.
First of all, the Koleos is definitely an SUV that puts occupant safety and comfort as primary targets. Not only is it fully decked with airbags and safety equipment, but it's also really relaxing to be in. Its 2.5-litre engine and CVT combo is one that makes the most out of driving comfort. Enough usable power is available between 1500-2500 rpm, which is where it likes to keep itself.
We've always prefered a higher displacement non-turbo engine for day-to-day driving. It's easier to predict how quickly the power will come on, which makes driving in traffic smooth. And since the Koleos naturally gravitates towards the lower end of the rev range, what we end up with is very little noise and vibration seeping into the cabin. Since the engine avoids putting stress on itself (except when you ask it to), you have yourself a car that will last.
This new variant comes with ALL-MODE 4X4-i technology. The whole system is controlled via a toggle switch located by the driver's right knee. You can either leave it in front-wheel drive mode, let the system automatically distribute where power goes, or lock it in 4WD mode. You can how much power is going to each axle via the instrument cluster.
In addition to the straightforward 4WD system, this version also comes with a powered tailgate. Whether you're in the driver's seat or outside the car, the boot can be opened or closed with a press of a button. And if your hands are full, as long as you have the Keycard in your pocket or handbag, you can just swipe your foot underneath the boot to open the thing.
Exterior looks are another strong suit of the Koleos. It has an imposing look that you usually only see on more premium SUVs. It certainly feels expensive, especially on the outside. And the Koleos looks great in any of its 5 colour choices, but the Marron Red (pictured) and Meissen Blue stand out the best.
It's also a large SUV – a couple of cm longer than its Japanese rivals, with a class leading wheelbase and a lot of bootspace. 542 litres, that easily expands to 1690 litres with the rear seats folded. But despite the size, the 12 front and rear parking sensors along with a reverse camera make maneuvering the Koleos a breeze.
On the inside, it's mostly a black affair, with minimal chrome garnishing. Most of the cabin features plastics of varying grade and the seats come covered in Vienna leather.
Users can choose what ambient lighting suits them best. Green and red were particular favourites of ours.
The customizability doesn't stop there. Changing the ambient lighting also changes the colour theme on the infotainment and digital instrument cluster. This uniformity makes the colour options feel less like a gimmick and more like a thought-out tool for those whose cars are shared between multiple drivers. You can even change the kind of instrument cluster information you want displayed.
The real highlight of this interior is the vertically-aligned 8.7" R-Link 2 infotainment system. Very few manufacturers have caught on to the benefits of mounting a screen in this fashion. At this point, it's just Volvo, McLaren and Renault. First of all, this is how smartphones are used most of the time. Subconsciously, the driver knows where most of the controls and functions are thanks to this simple visual cue.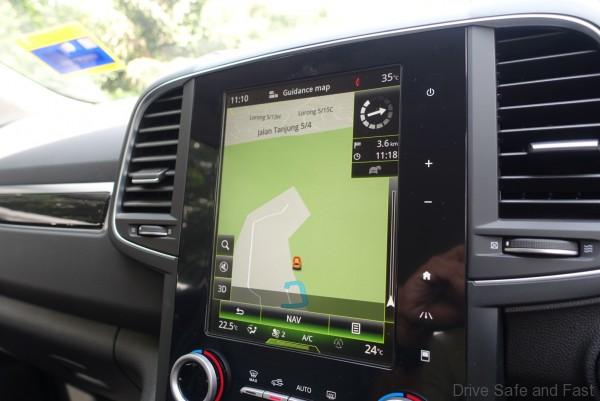 8.7" is large for any display, but because it's taller than it is wide, the designers can more effectively use the area and create a sense of space. And of course, reading navigation instructions in this way makes more sense, as drivers need to see more of what's ahead of them, rather than what's to the sides.
Overall, we were quite impressed with the Koleos as a package. The 4WD mode was easy to get in and out of, and the powered tailgate, LED headlights, and tasteful interior add a premium touch that makes the price easier to justify.
Most of all, it bridges the gap between an affordable-to-maintain mainstream SUV and the rest of the premium European options.
Renault Koleos 4WD Specifications
Engine: Naturally Aspirated Inline 4
Capacity: 2,488cc
Gearbox: CVT Automatic
Max power: 169hp @ 6000rpm
Max torque: 226Nm @ 4400rpm
Top Speed: 200km/h
0-100 km/h: 9.5 seconds
Price: RM201,800